Ramotar still to pronounce on NCN probe -Misir
Prem Misir, Chairman of the National Communications Network (NCN) Board of Directors, says the closure report on financial irregularities at the state-owned broadcaster remains with the Head of State and Minister of Information Donald Ramotar, who is yet to offer his advice.
"The President has been in and out… I think he just returned from Peru although I can't say for sure but I sent him the report and it's on his desk," Misir told Stabroek News yesterday.
Head of the Presidential Secretariat Dr Roger Luncheon last month announced that the board had completed its probe and that the results were with Ramotar. Luncheon at that time acknowledged that he had seen the report but refused to disclose whether there were any recommendations for dismissals.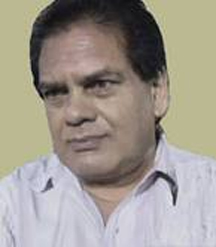 Misir yesterday only reiterated that the report was done and that the President is still in possession of it. "The reason the President is involved is technically because he is the Minister of Information [and] so he got the closure report.
He agreed to look at it expeditiously," he said. "I think [Programme Manager Martin] Goolsarran's unpaid leave is still happening, that has not changed. The President has to make that decision," Misir added.
The board launched an investigation in June into suspected financial irregularities at the network. Chief Executive Officer Mohammed 'Fuzzy' Sattaur subsequently resigned, while Goolsarran was later sent on administrative leave in relation to a $3.9 million cheque made payable to him by telecommuication company GT&T as an incentive for the production team that worked during the company's jingle and song competition, held between September last year and February this year.
Sattaur's quitting and Goolsarran's suspension coincided with the resignation of Yog Mahadeo, the then chief executive officer of GT&T.
It was GT&T's payments to NCN for services that triggered the investigation.
Parmesar Chartered Accountants was hired to carry out a special investigation into the alleged financial irregularities and several breaches were uncovered.
Most Read This Week