Marian Academy, Tucville Primary to contest Courts Pee Wee School final
By Iva Wharton
Marian Academy and Tucville Primary will contest the final of the Courts-sponsored Pee Wee School Championship next Saturday at Thirst Park Ground.
In the first semi-final between Marian Academy and West Ruimveldt Primary, Marian edged out West Ruimveldt by a 1-0 margin. The goal was scored by Shemroy Holder in the 32nd minute. The match was an exciting one with both teams fighting to earn their spot in the final.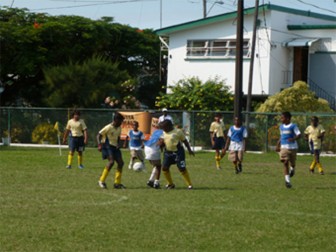 The second semi-final saw Simeon Hackett again coming to rescue of this team who scored a 2-1 victory over North Georgetown Primary in their penalty shootout against Tucville Primary after regulation and extra time saw the match ending in a stalemate. Hackett and DeAndre Linton scored in the penalty shootout while Tyrese Prescod scored for North Georgetown.
In other matches, Enterprise Primary, through strikes from Izaunah Rogers (18th) and Leon Chesney (24th) scored a comfortable 2-0 win against Sophia.
In the remaining matches to finalise the 16 top teams, St. Sidwell's Primary then beat Success Primary by a 1-0 margin with Kwayance Henry's 27th minute effort making the difference in the contest.
St. Gabriel's squeezed past the much fancied Redeemer Primary 3-2 with Teon Forde (5th and 27th) netting a brace, while Raynard Bandhu (8th) completed their tally.
Shemar Dover (15th) and an own goal (40th) accounted for Redeemer's goals.
St. Pius cruised past F.E Pollard Primary by a 3-0 margin with Bevney McGarrell (fourth4th, 24th and 40th) netting all three goals while St. Margaret's gained a walkover from Ketley Primary after the latter failed to show up, while South Ruimveldt benefitted from a similar result from Green Acres.