Guyanese to be trained for Guyana Goldfields underground operations
- company may help set up GGMC's mining school
A combination of local and overseas training and recruitment of trained personnel in the diaspora could see Guyanese occupying high-level operational positions in the production phase of the multi-million-dollar Guyana Goldfields, Chief Executive Officer Patrick Sheridan has told Stabroek Business.
"We have a mine plan and initial underground exploration will be led by expatriates, primarily Canadian underground mining contractors. Over time,  we envisage that as the skills get transferred to locals, more and more Guyanese would come in to replace the expatriates and that will redound to everybody's benefit, including the company's," Sheridan said.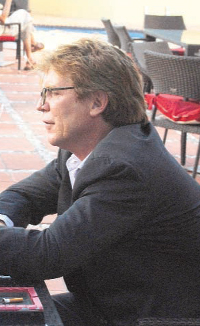 He announced last week that Guyana Goldfields will commence gold production during the first quarter of 2015 and the company will provide the sector with its first ever underground mine. The disclosure regarding training of Guyanese points in the direction of the acquisition of a range of new and contemporary skills in the local mining sector.
Meanwhile, Country Manager Violet Smith, who, along with Human Resources Manager Peter Benny accompanied Sheridan to the interview, disclosed that  Guyana Goldfields is mulling an invitation from the Ministry of Natural Resources and the Environment to partner the Guyana Geology and Mines Commission in the setting up of its proposed training institution for local miners. "We need to find out what level of support they are looking at and they have not responded yet, though, in principle, we are favourably disposed to the idea," Smith said.
Sheridan said the company would be setting up internal training programmes for workers who will be assigned to its open pit and underground mining as well as those who will work in the processing plant. "In fact, it is in our mining contract that we would use Guyanese labour; so that it is in our interest to have a training programme," Sheridan added.
Sheridan said the company's programme for the recruitment and training of Guyanese will proceed through collaboration with local training institutions, including the University of Guyana. He explained that most of the skills which the company requires in the short term include welders and mechanics. "We hired five engineers from the University of Guyana last year and that makes us a significant employer from the university though I have to say that we are not keen to train people who will leave Guyana after they are trained," Sheridan said.
And according to Benny, Guyana Goldfields' training and recruitment plans  could also take account of other tertiary institutions including the various technical institutions. "We have already spoken with the Guyana Industrial Training Centre (GITC) and the Linden Technical Institute, in the latter case because most of the local mining skills come from Linden," Benny said.
Sheridan told Stabroek Business that Guyana Goldfields envisages delivering benefits to Guyana that go beyond taxes, royalties and direct job creation. "We envisage that for every job that we create, eight to ten jobs will be created indirectly. These will include arrangements for the supply of fuel, rations, spare parts, various forms of transportation including sea and air transport; we have been doing this since 1994."
Meanwhile, Sheridan announced that Guyana Goldfields is to invest US$8.2 million in a wharf facility at Buck Hall and the first phase of a road network. A further US$15 million will be invested in the road network subsequently. Sheridan said it is envisaged that the road network and the rest of the infrastructure in which Guyana Goldfields is investing will ultimately benefit much of the local mining community. "We have already had successful joint venture arrangements with some of these miners.
"This is a high-risk industry and in order for projects like ours to move forward we must have access to risk capital. We have spent US$120 million without producing an ounce of gold. Raising that kind of money requires access to public markets, primarily in the form of public companies so that risks can be spread amongst investors. Small institutions have helped too and what we are offering local miners is an opportunity to explore their ground," Sheridan said.