Teen remanded, epileptic on bail over $9M break and enter
One of the two accused in the $9 million break-in and larceny at the Regent Street Cell Point Store was yesterday remanded to prison while the other was granted $500,000 bail after his epileptic condition was taken into consideration.
The allegation against Jermaine Anderson, 37, and Joel James, 17, is that between December 31, 2012 and January 1 at Regent Street, Georgetown they broke and entered the Cell Point Store and stole a quantity of cell phones and other articles, valued $9.8 million and property of Devanand Singh.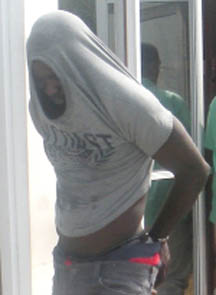 They jointly-charged duo pleaded not guilty to the charge of break and enter and larceny when it was read to them by Magistrate Leron Daly, before whom they appeared at the Georgetown Magistrates' Court.
Anderson is a father of one and resides at 11 'B' Field Sophia. Meanwhile, James, when asked by the magistrate for his address indicated to the court that he has no fixed place of abode. "I don't live anywhere," he quietly responded.
Attorney George Thomas, who represented Anderson, was successful in retaining his client's pretrial liberty.
Thomas begged the court to take into consideration that his client suffers from epilepsy and advanced that if he were to be remanded to prison, he would not receive the medical attention required to treat his condition, which causes repeated seizures.
The lawyer said that this condition necessitates his client frequenting the hospital for treatment. While the defendants were seated in the dock, Anderson collapsed and appeared to have had a seizure.
This caused a disruption in the proceedings and resulted in the magistrate leaving the bench before resuming and recalling the matter.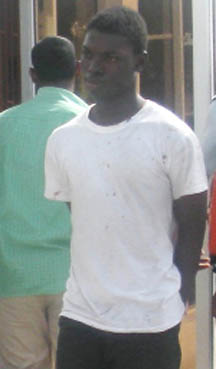 Counsel said his client had been arraigned after being accused of having two of the alleged stolen cell phones.
This, he implored the court to bear in mind, was a mere accusation and did not prove that his client committed the offence levelled against him. Thomas added that his client had no antecedents, posed no risk of flight and had been cooperating with police investigations.
James was unrepresented.
After listening to counsel's submissions, the magistrate acceded to his request and granted Anderson bail, but informed that it would be set in a substantial sum.
Meanwhile, she informed James that he would be remanded to prison since he had no fixed address.
The matter will be called again on January 14.