Series will be continuation of Caribbean contest, says Sammy
CANBERRA, Australia,  CMC – Captain Darren Sammy says he expects West Indies and Australia to pick up from where they left off in the Caribbean last year, when they played to a thrilling 2-2 tie in a similar five-match one-day series.
"It will be competitive out here, that's for sure. I see it as a continuation of what happened in the Caribbean – over there in the limited over format it was a 2-2 draw," he said here yesterday.
"We've got five ODIs here so we want to play hard and competitive cricket. It's always a challenge to play Australia anywhere in the world, but even more so in their own backyard.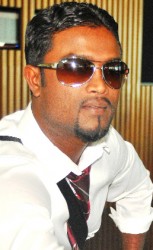 "We believe we can come here and if we can execute our plans and play to our strengths, we can be successful."
Last March, West Indies roared back from a heavy loss in the first game of the tripleheader in Kingstown, to win the second encounter before playing to a spectacular tie in the third match.
The hosts won the fourth contest in St Lucia to take a 2-1 lead in the series but then squandered a chance of a rare series win over Australia by losing the final game.
Australia showed signs of weakness in their recent ODI series against Sri Lanka when they fell behind 1-2 in the five-match series before coming back to earn a 2-2 verdict.
Sammy said, however, he would be taking no comfort from that below par performance, as the Aussies had proven themselves to be tough opponents over the years.
"We have a lot of respect for Australia, you can never count Australia out. They're professionals and know how to dig themselves out of a hole," he warned.
"We won't watch the results of the Sri Lanka series, but we'll look at some areas to implement in our game. I expect it to be a hard-fought battle and we're looking to play it very hard."
West Indies face a Ricky Ponting-led Prime Minister's XI on Tuesday (11:20 pm, Monday, Eastern Caribbean Time) in the only warm-up fixture before the series bowls off in Perth on Friday.
Sammy said West Indies would be taking the game seriously as it would be the perfect opportunity to set the right tone for the series.
"As an individual and as a team we have just got to get the basics right and execute if you want to win," he pointed out.
"This is the only practice match we have before we start against Australia in Perth later this week, so this is a chance to hit the ground running. The guys have been playing a lot of cricket back home and hopefully we can get this series off to a great start here."