Donations to differently-abled groups
The Ministry of Labour, Human Services and Social Security on Friday presented monetary assistance to two organisations for the differently-abled from the National Disability Fund for Development Programme.
According to GINA, the Deaf Association of Guyana (DAG) received $1.5 million towards its project for 'Skills development and income generation through shade house farming'. This project is intended to train teachers and deaf youths at three special needs schools in shade house farming and how to effectively manage such enterprises.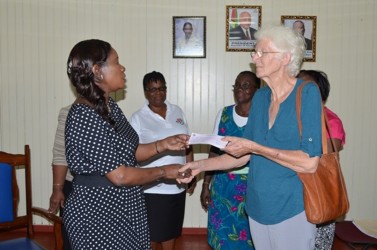 In this GINA photo, Minister of Human Services, Jennifer Webster (left) presents the cheque to Sabine McIntosh of the Deaf Association of Guyana. Also in photo is Beverley Pile (second from left), Executive Secretary of the National Commission on Disability.