Taxi driver found guilty over Mandela Ave road death
-gets 60-month sentence
Taxi-driver Leron Griffith was yesterday found guilty of causing the death of Chinese restaurateur Feng Xue Fang and was sentenced to 60 months in prison.
Griffith was charged with causing death by dangerous driving. It was alleged that on May 31, 2013, he drove motor car HC 2408 in a dangerous manner, causing the death of Feng Xue Fang.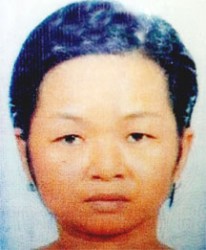 The trial, which ended yesterday, saw five witnesses taking the stand. In handing down her ruling, city magistrate Judy Latchman, who presided over the trial, emphasised that the court needs to send a strong message as a deterrent. She stressed the need for greater caution to be exercised by motorists, while noting the frequency with which road fatalities occur.  Feng Xue Fang, a Surinamese national who operated a restaurant on Mandela Avenue with her family, was killed on the spot as she was crossing Mandela Avenue.