Remigrant loses $$$M as fire guts Onverwagt house
A remigrant of Onverwagt, West Coast Berbice suffered major losses after a fire, which he suspected was electrical in origin, gutted the interior of his newly renovated house around 4.45 am yesterday.
Shamlal Khodai, a retiree, estimated his losses to be almost $20 million. The building is located in the senior staff compound of the Mahaica-Mahaica-Abary scheme and a stone's throw away from the fire service.
He told Stabroek News that the fire-fighters responded promptly and were able to contain the blaze to the inside of the building.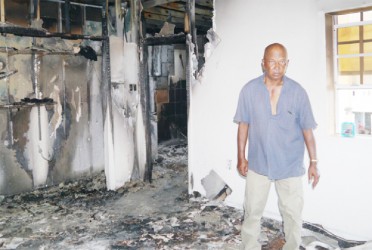 Nevertheless he suffered extensive damage after the PVC ceiling melted and fell on the freshly done floor. Chandeliers, mattresses and other items were also damaged.
Because the floor was just done and it was still sticky, Khodai said, he was sleeping in his car as he did not want to damage it. He said he was fast asleep when he was awakened by a "tapping" sound and saw his neighbour, Kelvin Sandy standing outside his front door on the upper flat.
Khodai said he jumped up and inquired what happened and Sandy responded, "Your house is on fire," before heading over to the fire service to inform them.
According to him, Sandy was passing in his car to go home when he smelt smoke but could not determine where it was coming from.
He checked his car and saw nothing. He then looked up and saw the smoke and entered the yard to inform Khodai.
The distressed man said he had returned to Guyana about six months ago and started the renovation, installing modern conveniences. The exterior of the house was being painted at the time of the fire. He said he had exhausted all of his savings, but that the house was insured.
He wondered how long the process would take for him to recover some funds to start rebuilding.