Prime Minister's son charged with assaulting sister-in-law
The prime minister's son was today granted bail after he was charged with assaulting and threatening his sister-in-law.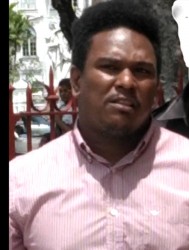 It is alleged that on February 27, Samuel Hinds Jnr, 33, of Lot 83 Duke Street, Kingston beat his sister-in-law with a cane and threatened her with a gun. The court was told that during the incident that occurred at Lot 83 Duke Street, Hinds called Tenza Layne a thief, threw her to the ground, stamped her in the face and dragged her by her hair around the house. According to Police Prosecutor Renetta Bentham, during the assault Hinds also brandished his licensed firearm and beat the woman with a cane.
The prosecutor urged the court not to grant Hinds bail on the grounds that Hinds and Lane live at the same address. She said the defendant threatened to kill the woman, never lodged his firearm at any police station and is a danger to the victim.
Charles Ramson Jnr, Hinds' attorney, informed the court that his client had relocated from the Duke Street house. He added that his client was willing to lodge his firearm and that the offence is a bailable one.
Hinds was subsequently granted $150,000 bail by Magistrate Geeta Chandan-Edmonds and ordered to lodge his firearm, passport, and report to the Brickdam Police Station every Friday pending trial.
The magistrate also issued a summons for Layne to appear in court, since she is also charged with assaulting Hinds, causing actual bodily harm.
The case was then adjourned until March 21.