Japan provides US$2.9M in grant aid
Japan is providing US$2.9M in non-project grant aid to support economic and social development in Guyana.
Loans will be made available to the private sector at a reasonable rate of interest, while funds garnered from loan repayments will be allocated to developmental projects.
A release from the Government Information Agency (GINA) said that Minister of Foreign Affairs, Carolyn Rodrigues-Birkett on Monday signed the agreement with Japanese Ambassador, Yoshimasa Tezuka at Takuba Lodge, South Road and Shiv Chanderpaul Drive.
Rodrigues-Birkett said that this type of lending arrangement was not novel in Guyana, as it had been ongoing since 1987. Among the agreed list of items that can be purchased from Japan by private sector firms accessing the financing are civil engineering equipment and electrical power machinery necessary to complete infrastructural works.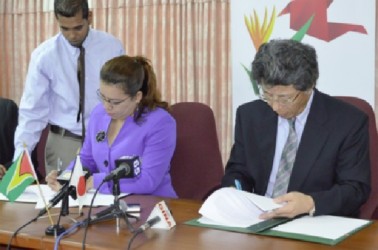 She pointed out that this assistance was yet another manifestation of the friendly relations between the two countries. She noted that more than 90 percent of the vehicles on Guyana's roads are Japanese-made. However, she declared that the government was also interested in having more of Guyana's products exported to Japan.
Guyana has benefited from several developmental projects funded by Japan, including the construction of the New Amsterdam hospital, the Corriverton water supply project and the provision of scholarships.
Additionally, Japan had also provided resources to assist with rehabilitation works in the East Demerara Water Conservancy.
A release from the Embassy of Japan in Trinidad and Tobago said that Japan welcomes further opportunities to work with the government and people of Guyana, to strengthen the existing bonds of friendship and mutual understanding, especially in the Japan-Caricom Friendship Year 2014 which marks two decades since the first Japan-Caricom consultation in 1993.
A number of events are planned that will further enhance the Japan-Caricom relations in diverse fields such as culture, trade and tourism.