Shot army recruit loses kidney
Guyana Defence Force recruit Vernon Harding will be forced to live with only one functioning kidney after being accidentally shot at an army base.
Harding, 21, of Middle Road, La Penitence, is currently under medical supervision at Camp Ayanganna. Despite the fact that the bullet has not been removed from the man's body out of fear that he would be paralysed, Harding's mother Vanetta believes that he is doing "good" and that her son can still have a life with one kidney.
She said the medical attention provided by the army is sufficient but indicated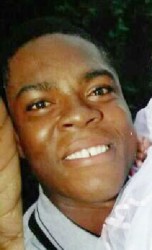 that her son has not received any offer of compensation for the injury.
Vanetta is also in the dark as to whether any action is being taken against Lieutenant Othneith Hope, who was reported to be responsible for her son's injuries.
Vernon, who was stationed at the Colonel John Clarke Military School at Tacama, was shot once to the arm but was injured to the abdomen as well after the bullet exited his arm and penetrated his abdomen, injuring one of his kidneys.
The recruit was said to be in a barrack-room with Hope when the Lieutenant accidentally discharged two rounds from his weapon.
According to a statement released by the army, the shooting occurred due to direct breach of the army policy governing the use of a weapon in the presence of recruits. The release further stated that the results of the investigation would be presented to a Board of Inquiry for the consideration of disciplinary action.