Copa begins G'town-Panama flights
Guyanese now have access to more than 66 destinations with the launch of Copa Airline's non-stop service between Cheddi Jagan International Airport (CJIA) and the airline's Hub of the Americas in Panama.
The airline began its service, scheduled for twice a week, yesterday and expressed optimism at the partnership. "We are happy to be at the start of a new and promising partnership and we want to assure that we are going to be here for the long haul," regional sales manager for Copa Airlines Diego Bermudez said in a press statement issued by the company.
The statement went on to say that the new flight will expand connectivity for Guyanese throughout Central, South and North America and the Caribbean while the new link with the Americas is expected to bring "a wealth of opportunity for the Guyanese business and tourism sector."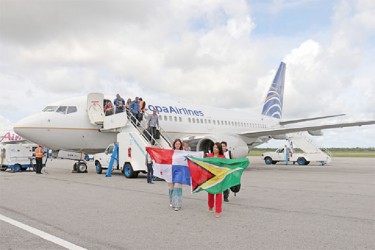 Officials of Copa Airlines have also been working closely with Guyana's Ministry of Tourism and Guyana is expected to be promoted as a tourism destination.
Complimentary means and beverages, including alcohol, will be available on-board along with a 12-channel audio-visual entertainment system in English, Spanish, and Portuguese.
Frequent fliers will also be able to earn miles through the MileagePlus program, the release said. Passengers will also be able to purchase tickets in 7 currencies.
Copa flight 423 will depart Georgetown on Tuesdays and Fridays.