UG faces shutdown without student loans
-Vice-Chancellor warns
As students await word on just whether loans will be available to the University of Guyana (UG), the institution faces closure in possibly less than a month, according to Vice-Chancellor Jacob Opadeyi.
Opadeyi yesterday told a press conference that closure was an option if only a minority of students would be able to pay their increased tuition fees come September.
The university could close as early as the second week of the semester if tuition payment remains an issue for students. Higher tuition fees were announced last month.
According to Opadeyi, the university would be unable to run as expenses such as wages and security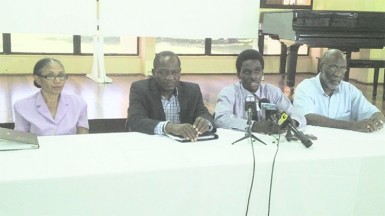 remained constant and did not depend on the volume of the student population. When the suggestion of payment plans were put to him, he said lecturers could not be paid when students decided to pay their fees. The university, he added, incurred expenses whether it was opened or closed.
The university is currently $450M in debt, UG's Bursar Patricia Poonai said.
Opadeyi explained that the closure option remains as "Plan B" as the administration awaits word from the Ministry of Finance on the availability of student loans.
"The main issue that confronts us today is the uncertainty about the access to the student loan for our students," Opadeyi said. He went on to say that up to yesterday the loan department had not indicated whether loans were available to students or not and had informed him that they were awaiting instructions from the Ministry of Finance.
Though the ministry had been adequately consulted before the tuition hike, it was not known why officials were yet to adjust to these changes, he said.
"Right now registration has started and this may impact on our ability to actually go into operation for this academic year," Opadeyi said. Meanwhile, Opadeyi revealed that the university will be investing in software that will enable better record keeping, thus allowing students to easier hold those in authority accountable. Other upgrades, he said, will include projectors in classrooms as well as online timetables for individual classes.
These upgrades will all be a part of the $50,000 facilities fees that students are now required to pay. This fee as well as the entire tuition can be paid incrementally.
Earlier this year, the opposition parties A Partnership for National Unity (APNU) and the Alliance for Change (AFC) voted to cut $450M allocated for the university's student loan programme as the loan provision fell under the Ministry of Finance's capital programme and the government refused to separate it. The opposition has however argued that the revolving fund has sufficient monies to enable loans to be extended to UG students despite the cut.