J/ca's Boystown here to battle local clubs
Vizion Sports and Entertainment Agency in collaboration with the Georgetown Football Association (GFA) will commence their Caribbean Interclub football matches today at the Georgetown Football Club (GFC) ground, Bourda.
The three day event which will continue on the 7th and 9th of March, was rescheduled due to the incessant weather during the December 2013 period and will pit three local sides against Jamaican unit Boystown FC in a series of matches.
The competing local sides are Alpha United, Slingerz FC and Buxton United. In the event's opener at 18:00hrs, Alpha United will battle Buxton United while Slingerz FC will faceoff with Boystown FC in the feature showdown at 20:00hrs.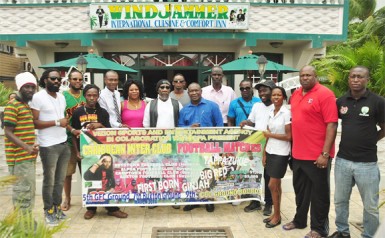 Speaking at a press conference held at the Windjammer Hotel, CEO of Vizion Sports and Entertainment Agency Wally Fraser said that he was grateful for the commencement of the tourney following its earlier postponement.
He further said that he is pleased with the sponsors Banks DIH Limited and Caribbean Airlines for their support for the venture and envisions taking the event to other parts of the Caribbean.
Communications Officer of the beverage giants, Troy Peters said that the establishment is pleased to be associated with the tournament as one of its main objective is to bring about Caribbean integration in sport.
Andrew Price, coach of the visiting Boystown FC outfit said that while he does not know much about the opposing sides, his charges have come to and will play good football and entertain everyone.
Charles Pollard, coach of the Vergenoegen unit said "It's a good challenge. Our players are very hungry and want to prove themselves. We are excited to be participating".
Alpha United coach Wayne Dover said "The event could not have come at a better time and it gives us valuable practice going forward into the Caribbean Football Union (CFU) Club Championships. We will use this event to build cohesion in our group as we go into the championship".
Buxton United Secretary Eton Moses said "Buxton continues to relish a good youth agenda and we will use this event to work on the chemistry of the side. We want to continue to give them as much exposure as possible".
Guyana Football Federation (GFF) representative Charmaine Wade said "Thanks must be expressed to Vision Sports and all the sponsors for making this event possible. We see this as an opportunity to put Guyana on the map in local football and we hope this is the first of many".
Sponsors of the event include Banks DIH Limited and Caribbean Airlines while winners of the event will receive trophies. Admission to the event range from $1500 and $3000 for general and VIP seating respectively.