Dear Editor,
You have done it again. Once again you have missed the marvellous opportunity of using your front page to bring joy and hope to your readers.
How wonderful it would have been to have looked at the front page of your paper on Wednesday March 14, and seen the joyous headline 'We Win' and the beautiful picture of the first World Cup match that you placed on the back page. Your wonderful coverage of Guyana's Twenty/20 win a few months ago was also placed on the back page.
Yes I know that your back page is designated for sports, but Guyana winning the Twenty/20, and the West Indies the first World Cup match is much, much more than just sports.
This is the sort of news that gladdens the heart, puts a smile on the face and brings people together in joyful conversation.
Yet, you choose to highlight on your front page on those days, and almost on a daily basis, criminal activity and other bad news that serve to depress the spirit and showcase our country in a very bad light.
Every country has its share of criminals, murders and other horrendous crime, but do the responsible papers consistently splash these on the front pages over and above the other news?
We are hoping to attract a large number of visitors to our country in a few short weeks for the World Cup. However, I wonder how many will have second thoughts while researching our country seeing consistently the bad news that you highlight?
This is a fantastically beautiful country. We are a very hospitable people. Yes, there is a lot of criminal activity, but the honest, decent, hardworking people and the daily good deeds far, far outweigh the bad. Let us showcase this.
In this heady World Cup season, is it too much to ask that you reflect that hope, joy and expectancy in your major headlines?
Yours faithfully,
Joan Collins
Comments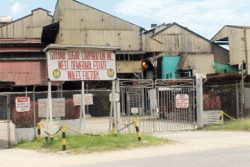 Three companies, including two regional conglomerates, have expressed interest in taking over the shuttered Wales, West Bank Demerara sugar estate in a deal that is expected to see the development of significant agro-processing operations here.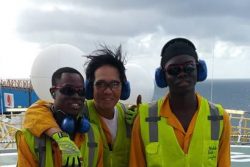 Twenty-three Guyanese, including a doctor, have been working on a drill ship contracted to ExxonMobil for oil operations and yesterday the company flew seven journalists to the site for a firsthand look at operations.
In the first public exercise of its powers, the Local Government Commission (LGC) has instructed the Rose Hall Town Council to rescind its recent hiring of a Town Clerk, while saying that it exceeded the authority given to it to recruit candidates for the post.
While government has committed to relocating the Guyana Gold Board (GGB) laboratory from the Brickdam compound housing the Guyana Geology and Mines Commission (GGMC) "within the shortest possible time," workers who walked out last Friday due to safety concerns remain opposed to its operations continuing in the interim.