Guyana's top ten exports to Canada have enjoyed mixed fortunes over the past five years according to information contained in a paper presented by a Canadian trade consultant at a recent seminar on Guyana/ Canada Trade Relations held in George-town.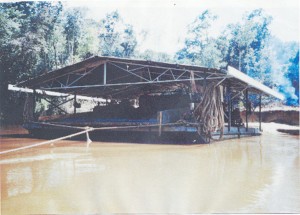 The value of gold exports, Guyana's single largest export to Canada, slipped from Cdn$189,080,190 in 2003 to Cdn$151,794,263  last year while the value of rum  and spirits exports to Canada during the same period doubled, reaching Cdn$4,432,925 up from Cdn$2,233,427 in 2003.
The value of aluminum and ores imported into Canada from Guyana almost halved between 2003 and 2007, declining from Cdn $2,294,777 in 2003 to Cdn$1,105,892 last year while ethyl alcohol sales to Canada dipped from Cdn$1,073,447 in 2003 to Cdn$698,705 last year. The single largest percentage increase in the value of exports to Canada from Guyana over the past five years occurred in the fresh and dried foods sector  where the value of exports increased from Cdn$22,510 in 2003 to Cdn$299,694.
2004 was the single biggest year for Guyana's gold exports to Canada over the past five years. Last year, however, the value of gold exports to Canada rose above the figures of the previous years.
Meanwhile Trade Consultant Ronald Bollman told the seminar that efforts by Guyanese companies to secure joint venture partnerships and strategic business alliances with Canadian partners probably had their best chances of success in the areas of wood products manufacturing, mining technology products and services and, forest products harvesting and processing technology and building products.
Bollman said that that among the key areas for Guyana in consideration of its trade links with Canada are medical equipment including low-cost medical supplies and the construction of patrol boats and fishing vessels. In the area of services Bollman identified engineering services associated with the building of bridges, roads, hospitals and schools, water and waste management and institutional strengthening in various areas including management consultancy.
Bollman disclosed that Canada enjoyed joint venture production with Suriname in organic agricultural goods which was taking advantage of a market that was "growing exponentially in Canada and Europe." According to Bollman potentially lucrative opportunities exist in Canada for a wide range of products originating in Guyana and the Caribbean including salt fish, seasonal horticultural products including cabbages, poultry cuts and sea foods while special niche markets exist mostly among the Caribbean diaspora in Canada for Caribbean-manufactured beverages and condiments.
Meanwhile, Bollman told the forum that Guyanese business entities might wish to give consideration to exposing their export managers to training at Canada's Forum for International Trade Training (FITT), an international trade training and professional certification body and the only organization of its kind in the world.  Bollman said that FITT  sets the standards and designs the training programmes leading to the professional designation Certified International Trade Professional. (CITP).
Around the Web