Glarey Bowling was a fighter. For nearly three years, she clung to hope and life after escaping a fire that claimed the lives of her mother and two young children. But Glarey's champion spirit faded on Monday, when she passed away quietly at the Georgetown Public Hospital. She was 43.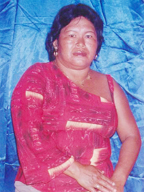 Glarey Bowling had come out of the fire a disabled woman. Every day since, she battled pains caused by the severe burns that she sustained to ninety percent of her body during the fire which ripped through her modest Parika Backdam home on the fateful morning in May, 2006. Bowling eventually took her own discharge from the Georgetown Hospital weeks after the incident owing to what she described as poor treatment by the nurses. Since then, she was confined to a bed unable to do anything for herself. Because of her slow rate of recovery, she had been unable to fully utilise two wheelchairs donated to her last year.
Because of the lack of money, she was forced to endure the pain as her husband worked in the interior to make ends meet and her eldest daughter, Onika, assumed the role of mother of the house. Initially, the family managed to save money for homecare but they had to give it up to ensure the children had food to eat.
Even in the midst of the continuing tragedy, Glarey managed to hold on, always putting a smile on her face and braving every day. But on Boxing Day (last Friday), she took a turn for the worse and was admitted to the hospital after she was rushed there.
Yesterday, an emotional George Bowling recounted that his wife began complaining about pains about her body and was unable to keep food in her stomach. It was the worst she had been since the fire.
The man said he took her to the hospital and she was put on saline. He visited the next day and noticed that Glarey's face was badly swollen.
When he asked the nurses, he was told that only the doctor would know why that was happening.
On Monday, George found his wife dead on the hospital bed, unbeknownst to the nurses on duty. They assumed that she was sleeping, he said, but when they checked her they confirmed that she had died. According to him, another patient told him that sometime before his arrival, Bowling was crying out for water to drink before going silent. He said the nurses should have provided him with more information because his wife was in a serious condition.
As he related the ordeal, Onika, who was present, was moved to tears. Fighting back his own tears, he said, "I really feeling this because she suffered for a long time, almost three years. We are so poor but I spent a lot of money to help her."
George said that the younger children are crying all the time but he is trying his best to "keep his head on" as the head of the household.
No money for burial
He was uncertain about a funeral, explaining that he cannot afford it. While he made contact with several relatives overseas about the death they have not given him any positive feedback. In the meantime, the family is trying to see how best it can gather money to bury her.
Last month the family moved to New Hope on the East Bank. The family had been forced to find a new place to live because the Campbellville bottom flat they were occupying was not suitable. According to George, it was too small and would flood when it rains. But since the move, the children have not gone to the city schools they were enrolled in because he could not afford to send them.
One of the girls is enrolled at the North Georgetown Secondary and she should be sitting the CSEC examination next year but may be unable to do so because of the financial constraints. But George promised he would make efforts to have them enrolled in schools on the East Bank for the new term.
In January last year, the children were enrolled in various schools with the assistance of the PNCR's Human Services Department. The party had also provided the children with school uniforms and other essential school items.
In the wee hours of the morning on May 9, 2006, Glarey Bowling, seven of her children and her mother were asleep in their almost-completed house at One Mile, Parika Backdam, when a man close to the family threw an incendiary device into the house.
Bowling and several of her children managed to escape but 17-month-old Anida, three-year-old Devika and their 66-year-old grandmother Victoria Benjamin were burnt to death.
Several days later, police arrested Arsha Ally in a village three miles away and eventually charged him with three counts of murder. Ally, of Good Hope, East Bank, Essequibo has been imprisoned since then and the cases are being heard at the Leonora Magistrate's Court.
During an interview with Stabroek News in December, 2006, she said that she had forgiven the perpetrator since she was a Christian and it was not good to keep grievances. She also expressed the wish for a wheelchair as a Christmas present so that she would be able to get fresh air outside.
Despite all the hardships she faced that year, Bowling had said she still hoped to make the holidays enjoyable. It was her hope that the New Year would be filled with joy and prosperity.
Bowling thanked God for sparing her life and allowing her to be a part of her children's lives.
Anyone wishing to help the family can contact George Bowling on 644-6970.
Around the Web