Dear Editor,
The current fiasco surrounding the Diwali pageant is baffling. A distinction needs to be made between the social element that has come to characterize the pan-Guyanese celebration of Diwali and the religious aspect of the festival as practised by Hindus. The main thrust of the debate centred on two areas: (1) denigration of the message of Diwali through association with unsavoury events and (2) promulgation of sexism and violence against women, etc, arising out "showing" women in pageants.
There has always been pageantry associated with Diwali, whether in our schools, in temples and indeed the national exhibition that has become a distinct social event in Guyana. I attended Zeeburg Secondary School where the annual Diwali show was a much anticipated event. If afforded the students an opportunity to conceptualise Diwali in their terms, present plays to celebrate the spiritual message and educate the general student population on important aspects of Hindu religious observances. However, it also had cultural and social elements – dances, fashion displays, humorous parodies, to list a few.  Indeed, the fashion show was the highlight of the event.
I am hard-pressed to accept the notion that my high school colleagues and I were complicit in the promotion of negative stereotypes of women and the denigration of womanhood. I would posit that it is in this social category that the national pageant falls and it should be viewed as such.
From the purist's perspective, the association of the name, Diwali, to particular events does a significant disservice to the auspiciousness of the festival and degrades its meaning and spiritual component. I beg to respectfully disagree. Association does not denigrate; it may be distasteful but have no impact on religious symbolism. For whatever reason, (male chauvinism?), this particular social element involves women being judged according to physical attributes that some may be opposed to. Perhaps, in the near future, we may have a Mr Diwali pageant that can be judged accordingly – like Mr Olympia. This, I suspect, will catalyse new arguments and opposition.
Distasteful and objectionable it may be, to appropriate cultural festivals but whether that serves to compromise the inherent message is debatable; the arguments fail to make this case. These arguments do a terrible disservice to the eternal resilence that characterizes Hindu religious observances. That being said, the discourse raises important questions on the prevailing culture of pageants (Miss Universe, Miss World) and its implications vis-à-vis a sexist male chauvinist society.
Contributors to the current debate (Vidyaratha Kissoon, Pt Persaud) raised concerns of sexism, viewing of the female body as an object of desire and sex or for male pleasure, and the multitude of negative accompaniments (harassment of various forms) that has become synonymous with pageants globally and locally. These are important issues but the discourse should encompass pageants in general but more specifically, a culture that promotes physical objectification. However, values-based cultural moralising has its own negative implications. In the current case, experts in feminist studies must educate us on the prevailing view of women on this subject matter, ie pageants and their psycho-social implications. It is also prudent to note that some women may choose to participate in an event of this type and their choice must be respected as legitimate in any discourse.
It better to have an open society with pageants and dialogue on the use of religiously sensitive names as opposed to one that demands that businesses dissociate themselves from an event because some view it as morally unacceptable. Promoting a culture war against pageants and prohibition against the use of religiously sensitive names leads us down the road of censorship and intolerance. Where will it end? What is required is comprehensive education, not censorship!
Yours faithfully,
Kowlasar Misir, M.Sc.; P. Chem.
Comments
Dear Editor, The GAWU, we are sure, like many Guyanese were surprised when they read the April 19, 2018 Stabroek News and learnt that Minister of Agriculture, Noel Holder said he was searching for persons to name to the Board of Directors of the GuySuCo.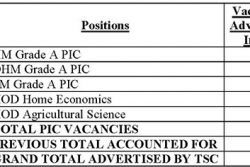 Dear Editor, In my letter in Stabroek News of April 20 which has the headline: 'There were 735 vacancies advertised by the TSC not 3472,' I indicated that Mr John said that vacancies for Practical Instruction Centres were not included in his statistics. 
Dear Editor, I would like to follow up on a letter published in SN on April 20, by Keron Adams, titled Does the GPF have a section responsible for traffic lights?'  The letter writer is spot on in inquiring about the culture of road users in Guyana, which results in so many unnecessary accidents.
Dear Editor, I have just noticed that the West Indies has selected its squad for the 20 over (3 hour) match at Lords against the rest of the world.