– Bodybuilder finally receives prize of two airline tickets for winning competition
Finally, Mr. Guyana Mark Anthony Perry can breathe a sigh of relief.
The Mr. Guyana winner yesterday received  two airline tickets from sponsors Caribbean Airlines.
Perry won the Mr. Guyana title at the Banks DIH ground back in August from a field of four competitors including the veteran Lindy Sharpe.
The first prize for the tournament was $30,000 and two airline tickets.
Perry up to yesterday had only received the money.
He had told Stabroek Sports earlier this month that he was being given a royal-run- around to collect the remainder of his prize.
Prior to presenting the tickets, president of the Guyana Amateur Bodybuilding and Fitness Federation (GABBFF) Frank Tucker, told the media that a breakdown in communication after the competition delayed Perry from receiving the remainder of his prizes.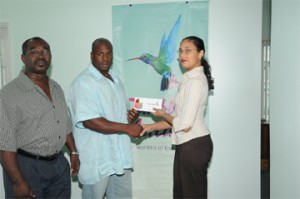 "I must say that I was not aware of this situation until I saw Mr. Perry's comments in the newspapers asking for his tickets. I must say that having spoken with the treasurer and secretary of the GABBFF; I realized that there was a breakdown in communication which resulted in the delay.
"However, I am happy and elated to say that both the GABBFF and Perry have resolved the situation, hence today's presentation of the tickets. In that same vein, I would like to express my heartfelt gratitude to Caribbean Airlines for their continued support and we look forward to working with them in the years ahead," Tucker stated.
Perry, in reply, expressed delight at not only receiving his tickets, but also having the situation resolved amicably.
He said he planned to take his fiancée, who has been behind him throughout this saga, on a visit to St Lucia sometime next year.
Presenting the tickets on behalf of Caribbean Airlines, sales executive, Kathleen Shuffler-Ten-Pow, stated that the airline was happy to be associated with the GABBFF in this venture and would be looking to continue the relationship in the future.
Around the Web