Hi Everyone, Dirty Rice, don't let the name of the dish fool you, it is one of the best tasting rice dishes you will ever eat. And for a rice fanatic like me, eating Dirty Rice for the first time was eureka! I am so thrilled and excited this week to share this with you.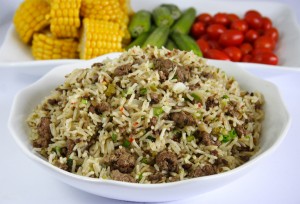 I had heard of Dirty Rice for some time but never got around to making it. However, after my column, Offaly Good, last May in which I extolled the delights of chicken livers and gizzards, a long-time reader of this column, Geralda, sent me a Dirty Rice recipe. I filed it away vowing to make the dish. As you can tell, life got hectic, and months went by, however, this week I found myself doing what so many of us do – wondering what to cook. I wanted something that tasted different. Suddenly my thoughts turned to Dirty Rice.
Dirty Rice is a traditional Cajun dish that is very popular in Louisiana and other Southern states in the United States of America. It is a dish made with sautéed green bell peppers, onions and celery along with white rice, chicken livers and gizzards cooked in stock. It's a one-pot dish. Dirty Rice is one of those dishes, like many we have here in the Caribbean that was created by home cooks using whatever was on hand. Apparently, Dirty Rice was a good way of ensuring you got your money's worth from a chicken. By using the liver and gizzard, the dish would go further. Dirty Rice gets its name from the colour that the liver and broth gives to the white rice.
As I was researching this dish, I found out that these days, many people shy away from using the livers and gizzards opting to use ground pork or beef instead, to aid in the dirty look. What a shame because it is not just the look of the rice that's important but also the flavour. Some recipes required that the meat and vegetables be cooked separately as well as the rice, and then be combined. Others suggested that everything be cooked together, in stages of course. I also found that the recipe is very flexible and can be adapted to suit the taste of the person making it. Staying as true as possible, I set out to make Dirty Rice. I opted to cook everything together, in stages. Normally, I'd tell you to email me for the recipe but I want you to try this dish soon so I'm giving you the recipe. I came up with this recipe after drawing inspiration from the many recipes I read and analysed including the one from Geralda.
DIRTY RICE
Ingredients
¾ pound chicken gizzards cleaned and washed
6 sprigs fresh thyme, divided
3 small chicken cubes, divided (beef cubes can be
used instead)
3 cups water
1 pound chicken liver, pat dry
5 tablespoons vegetable oil, divided
1 cup diced onions
¾ cup diced green bell peppers
¾ cup diced celery
Minced hot pepper to taste
2 cloves garlic, minced
Salt & black pepper to taste
1½ cups long grain white rice
½ cup finely sliced green onions, white and green parts
Equipment

1 pressure cooker or medium saucepan with cover
1 chef's knife
1 cutting board
1 slotted spoon
1 pot
1 large spoon
1 frying pan
1 fork
Method

Place gizzards, 3 sprigs thyme, 2 chicken cubes, smashed, and water, into pressure cooker or saucepan; stir, cover and bring to a boil. If using a pressure cooker, pressure for 15 minutes (time starts from the first whistle). If using saucepan, reduce heat to low and cook for about 25 minutes or until gizzards are tender
While gizzards are cooking, cut and finely mince liver
Remove gizzards from liquid with slotted spoon and when cool enough to handle, cut into tiny bits and then use your chef's knife to mince. Reserve cooking liquid
Heat 3 tablespoons oil in pot
Add minced gizzards and let cook until it starts to brown a little; reduce heat and add the onions, peppers, celery, hot pepper, garlic, remaining thyme and cube, salt and pepper to taste and let cook for 5 minutes or until the veggies soften
Add washed rice and mix thoroughly, let sauté for 30 seconds
Add reserved cooking liquid from gizzards, you will need 2 ¼ cups liquid to cook the rice (if there is not enough of the liquid, add water to get the desired amount); Check at this point for seasoning (salt and pepper and adjust if necessary); stir, cover pot and bring to a boil. Let boil for 4 – 5 minutes and then reduce heat to simmer for 10 minutes.
Meanwhile, heat the remaining 2 tablespoons oil until very hot in pan
Add minced liver and sauté for about 3 – 4 minutes
Fold in sautéed minced liver to simmering rice at the 10-minute mark; re-cover pot and let rice continue to simmer for another 10 minutes or until all the liquid has dried out
Fold in green onions, fluff with fork, let rice rest for 10 minutes and serve
Note

You can reserve 3 whole chicken livers to pan fry and serve on top of the rice
Be sure to write and tell me what you think once you've made and eaten the Dirty Rice.
Cynthia
tasteslikehome@gmail.com
www.tasteslikehome.org
Comments

GEMS Theatre Productions presents a new half an hour sitcom "Days Like Dese," a family-oriented comedy that surrounds the Rupauls, a middle-class Guyanese family.

Just three weeks short of the staging of the Miss Guyana Renaissance pageant, twelve ladies are kept busy perfecting dance routines, walk and speeches.

Twenty-year-old Keisha Brazh under the African name 'Serwah Mawusia,' is representing Ghana.

Put to task at the age of just ten to help to create the family's Christmas cake propelled Rabina Shivraj into a world of baking and decoration and today she has learnt the art of hooking her customers, first with her creativity and secondly with the taste of her creations.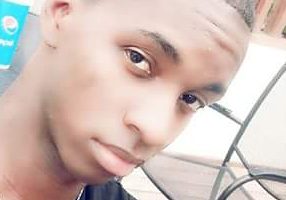 By Joanna Dhanraj With August fast approaching, the contestants of the Mr and Miss Guyana African Roots 2017 pageant are busy perfecting their skills for their big nights.