Even as the status of the negotiations between government and GT&T aimed at ending the telecommunications service provider's international dialling monopoly remains a closely guarded secret, there are signs that DIGICEL is growing increasingly concerned over the implications of the continued denial of an international licence to it for the financial performance of the company.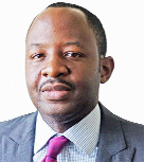 In an exclusive interview with Stabroek Business earlier this week DIGICEL's Chief Executive Officer Gregory Deane conceded that the earning potential of the company continued to be under-realised in the absence of an international dialling licence. "We are not maximizing our earnings. We are operating at the maximum that we can without an international licence," Deane told Stabroek Business.
Deane said that while 80 per cent of GT&T's earnings were coming from "the international stream" DIGICEL's operations continued to be confined to "the domestic front." Noting that international communication through voice and data was the future of the telecommunications business Deane told Stabroek Business that it was unacceptable to not have that service or to have it through a competitor.
Deane's remarks which come on the eve of the second anniversary of DIGICEL's entry into the local telecommunications market mark a sharp departure from the mostly restrained comments that the company has proffered so far in relation to the ongoing monopoly negotiations.
And the DIGICEL CEO dropped a broad hint that the constraints that continued to be placed on the company's  earning potential  were impacting on its plans to  further consolidate its growth in the local telecommunications sector. "We are an organization that thinks big in terms of development. If we think we need to do a development we just go ahead and do it. Those decisions become easier to make if you are maximising your earnings," Deane said.
DIGICEL has repeatedly pointed out that it has already invested in the infrastructure to offer its customers international dialling. Deane told Stabroek Business that the absence of an international licence meant that DIGICEL could not provide a number of services that are available through mobile technology even though the company already possessed the product to provide those services.
Both   government and GT&T have remained tightlipped on the progress of the liberalization talks and Deane said that while DIGICEL was encouraged by the reference to telecommunications liberalization by Finance Minister Ashni Singh in his recent budget presentation, the company   still remained a "spectator" to the process. He said that this year the company intended to   move in the direction of a high-profile  public relations initiative designed to further inform and influence public opinion on the issue.  "We are going to be spending a lot more time addressing the issue from a public relations standpoint. I think that at the moment people are aware that they have been paying a lot of money for international calls for the past eighteen years. We intend to do more to let them know what a liberalized market will mean for them," he added.
Sharp differences of opinion have arisen between DIGICEL and GT&T over their respective approaches to product promotion and several weeks ago GT&T Chief Executive Officer, Major General (ret'd) Joe Singh accused the regulatory body, the Public Utilities Commission, of "bias" in its rulings on the permissibility of promotional advertising by the two companies. On the other hand when asked about DIGICEL's relations with the regulator, Deane told Stabroek Business that his company had "no problem" with the PUC.
One of the more recent controversies over promos involving the two telecommunications service providers and the PUC arose after GT&T had protested to the PUC that DIGICEL's "free after three" ad had gone "below the floor" of  the rate scale set by the regulatory body. Singh had told Stabroek Business that following GT&T's protest to the  PUC DIGICEL had been directed to "pull"  the promo but had not done so.
Deane confirmed that the PUC had  written to DIGICEL about bringing the promotion to an end and that in response DIGICEL  had sought and received a hearing to discuss the matter.   Deane also alluded to what he said was GT&T's refusal to hold meetings with the PUC and DIGICEL to discuss promotions.
The DIGICEL CEO said that he believed that fundamental to the issue was the fact that GT&T had an international licence and DIGICEL did not have one. He said that while DIGICEL receives discounts from GT&T on some international calls to some destinations, GT&T's international licence continued to provide it with a strong competitive advantage.
"GT&T can run a promotion where it can offer its customers 50 per cent off so that their customers can pay $50.00 per minute and charge  us a rate of $100.00. If we are buying minutes wholesale from you why should you be charging us at a rate of $100.00 and charging your retail customers $50.00," Deane asked.
He said that the company regretted that it could not achieve what it was seeking to do "in such a short space of time" and that it would be seeking to give itself more time to put its Mash programme in the future. Deane noted, however, that DIGICEL was still making a contribution to the Mash programme this year. "We have involvement in the calypso competition and we have sponsored a few artistes in other competitions. However, we are disappointed that we have not been able to execute the concept that we had in mind since Mash is a major event for us," Deane said.
Around the Web