World of Flowers proprietrix Jean Pollard and her son
Michael talk about the beauty and the business of flowers
The name Jean Pollard is synonymous with the business of flowers in Guyana. Since 1971 she has owned and operated World of Flowers and, along with former Georgetown Mayor Compton Young, is considered to be among the pioneers of the local industry.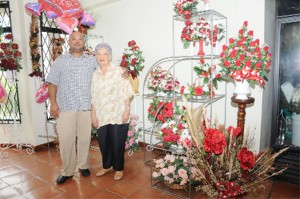 For the Jamaican-born Jean flowers are more than just a business; it is a labour of love, an entrepreneurial pursuit born of the influence of flowers as a child growing up in Jamaica. "My mother was always passionate about flowers," Jean told Stabroek Business.
It is a passion that she inherited and one which, she says has endured ever since. She cannot envisage her own home without flowers. 'Every weekend I change my flowers at home," Jean told Stabroek Business.
She concedes that she has not found a comparable passion for flowers in her adopted homeland but says that as a whole there is a sufficient demand to make it a viable business pursuit. Demand, she says, is linked to seasons and occasions –  Valentine's Day, Mothers Day, Anniversaries, Birthdays   and other special occasions. "People like to give flowers as gifts," she says. Her son Michael, whose interest in his mother's vocation is clearly more than a passing one points out that weddings and funerals are also "flower occasions."
If Jean appears resigned to the fact that there will probably always be limits to the growth of the flower industry in Guyana, she insists that "flowers do make a difference." She believes that in any setting the presence of flowers can become a "focus of attention, capturing eyes" and drawing attention away from the other mundanities in that setting.  "I never think of having people over to my own home without having flowers there," she says.
Jean is philosophical about the business of flowers. She understands, she says, that everything has its place on people's scale of priorities and that limits to disposable income invariably  place flowers low down the scale of priorities. Michael agrees though he believes that the surfeit of new, elaborate buildings – banks, hotels and homes – could well create a bigger potential market for flowers.
Jean is more cautious. She says that while some premises are inclined to use flowers as part of their decor for special occasions, there appears to be no permanent passion within these establishments for the colour and the beauty of flowers. She reflects on Jamaica, where, she says, it is commonplace for flowers to be sold in streets, markets and supermarkets; and when you ask her whether there are not now enough large, well-appointed supermarkets in Guyana for us to seek to emulate the practice she responds that "that is nothing that has not been tried before. It didn't work."
For Jean, a passion for flowers cannot be created through conventional marketing. She believes that the broader society, through institutions like flower shows and public and permanent flower displays, through institutions like the Promenade Gardens and the Botanical Gardens can create a gradual appreciation of the value of flowers. She believes that it is only at that point when flowers become more than just a decorative appendage   and start to make an emotional difference that a real demand can be said to have been created.
Jean points to the peculiarities of the local market demand – like the preference among some local flower lovers for artificial creations, silks and dried  arrangements. That she stocks these is more an acceptance of the realities of the market than a personal embracing of the trend. She remains an adherent of fresh flowers and says that she detects a slight but discernable shift in local consumer demand away from artificial creations.
What Jean Pollard most appears to want is to keep the passion for flowers alive among her modest local clientele and to see the seasonal demand blossom into a more permanent preoccupation with "the beauty of flowers." It is, she knows, an arduous task but when, like Jean Pollard, you have become steeped in a culture, changing, giving up, abandoning pursuits   that have become part of your life, is simply not on the cards.
Around the Web