Local craft producers are concerned over the limited marketing opportunities afforded by GuyExpo and say that more has to be done to encourage craft buyers from the region to attend the country's premier national exhibition.
Members of the Guyana Art and Craft Producers Association with whom Stabroek Business spoke have said that while GuyExpo is usually well-attended the level of attendance provides no real indication of the extent of the market for local craft. "Many of the people who attend GuyExpo usually go there to have a good time, not to buy craft. We may sell a few pieces, perhaps enough to cover our costs but we need to bigger market, a bigger Caribbean market," owner of Irene's Creative Handicraft, Irene Bacchus-Holder told Stabroek Business.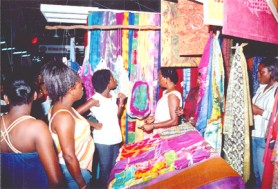 Another handicraft producer with whom Stabroek Business spoke said he believed that visitors to GuyExpo were primarily interested in being entertained. "We make a few sales but most of the money is made by the people who sell food and drinks. GuyExpo does not really provide that good an outlet for handicraft," he said.
General Secretary of the association Denzil Hollingsworth said she believed that the local art and craft industry could benefit from greater numbers of buyers from the region attending GuyExpo. "That is something that needs to be organized. We need to have fixed dates for GuyExpo so that buyers from the region can plan their visits."
Hollingsworth told Stabroek Business, however, that she hoped the 90 art and craft producers who are expected to participate in this year's GuyExpo will have ample opportunity to showcase and possibly market their products. She disclosed that visitors from Venezuela, Brazil, Antigua, St Lucia and Grenada, among other countries are expected to attend the event.  She said Venezuela was one of the countries in the hemisphere that was showing "particular interest" in art and craft made in Guyana.
Meanwhile, Hollingsworth told Stabroek Business she was satisfied that art and craft producers from all of the various regions would be displaying their goods at GuyExpo this year. She said both Amerindian and coastal communities will be adequately represented at GuyExpo.
Local craft producers have also been expressing concern over what they say is a proliferation of cheaper Chinese imports. However, Hollingsworth told Stabroek Business that she believed the initial "craze" for "the cheaper Chinese imports" may be weakening.  "At first people were excited about the Chinese imports. What is happening now, however, is the consumers are becoming aware of the fact that many of these imports are inferior. People are beginning to return to buying the better local products," Hollingsworth said. According to Hollingsworth while local craft producers had expressed some concern over the influx of Chinese imports she did not expect the government to place restrictions on those imports.
Around the Web