– as flood committee unveiled
One thousand and eighty water cans were handed over to the Guyana Water Incorporated (GWI) by the Guyana Red Cross Society (GRCS) to assist the water company in providing relief to flood-affected areas.
More is expected to be procured soon, Red Cross representative Dorothy Fraser said, while handing over the items to Chief Executive Officer of GWI, Karan Singh, at the company's Vlissingen Road offices yesterday. She noted that the cans were durable and re-usable.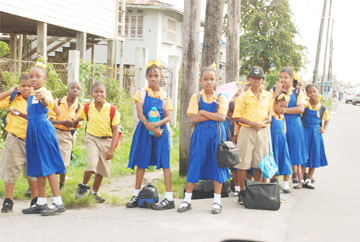 Singh, while thanking the Red Cross, said that GWI needs to move "a little more aggressively" to ensure that flood-affected areas get clean water. He said the cans were ideal for storing water and asserted that they will only be distributed in critical areas identified by the Civil Defence Commission (CDC). He said that in flooding situations like the present, the first area of threat is in the drinking water. Singh said that while the company was still catching up on sampling water, there are cases of contamination and GWI has increased monitoring mechanisms. He added that they were trying to run the pumps round the clock.
He noted too that UNICEF had donated 50 black tanks and the CDC would also determine where these would be placed.
Meantime, GWI said in a statement that it had formed a Flood Preparedness Committee to effectively deal with the current floods in some areas of the East Coast Demerara (ECD) and West Coast Demerara. The team comprises Singh; GWI Operations Director, Yuri Chandisingh; Lydia Fraser and Ashanta Moses of the GRCS; Indira Badal, Health Promotion Officer of PAHO; Dr Ashok Sookdeo – Director of the Environmental Health Unit, Dr Kumarie Jaipersaud – Director of Regional Health Services, and Lucy Anderson- Health Promotion Coordinator of the Ministry of Health; Jocelyn Dow of the Guyana Citizens Initiative; Ian Jones of UNICEF and Luca Palazzotto of OXFAM.
The release said the GRCS has pledged to hand over an additional 4,000 cans awaiting shipment into the country. The GRCS has also started distribution of bleach to treat water for human consumption in flood affected areas. So far distribution has been completed in Bee Hive, ECD, the release said.
Around the Web