No decision has been taken on new cabinet appointments, President Bharrat Jagdeo said on Wednesday though there will shortly be another vacancy with the impending retirement of the attorney general.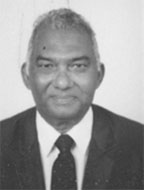 Although Irfaan Ali was sworn in as Minister of Housing and Water on Tuesday, the government has yet to name a successor to Dr Henry Jeffrey, who demitted the office of Minister of Foreign Trade last month. Additionally, Attorney General Doodnauth Singh is due to retire shortly.
Asked on Tuesday about possible future appointments as well as whether the Foreign Trade and Foreign Affairs ministries would be merged once again, Jagdeo said, "I have not decided on that as yet. When I have the other changes to make I'll inform you."
Jeffrey relinquished office at the end of last year after an unsuccessful negotiation for a diplomatic posting in Suriname. For most of the last year, Jeffrey had been engaged in discussions at the Office of the President about shifting his portfolio and during a discourse with President Jagdeo he agreed that he could take up a position in neighbouring Suriname. "I thought that I was around the ministerial thing a bit too long and I was identifying positions that I would like to shift to. None of them were diplomatic so to speak, because it was never my intention to leave Guyana and for one reason or another sometimes the positions were taken and sometimes what they offered was not sufficient and things like that," Jeffrey said in November.
PPP/C MP Anil Nandlall has long been tipped as Singh's likely replacement.
Around the Web