"I behaving myself – cause I din see nobody around so I pick up de bag and keep it," stated Rawle Evans who was accused of stealing a bag containing a gold chain and several other items as he was disembarking a bus.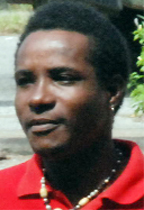 Evans, 32, of Essequibo had pleaded guilty to the charge of simple larceny when Acting Chief Magistrate Melissa Robertson read it to him yesterday at the Georgetown Magistrate's Court.
It was alleged that on Sunday Evans stole a handbag containing a gold chain, a quantity of cash and a cell phone, totalling $85,000 in value, property of Andre Hoggins.
The prosecution stated that on the day in question, Evans along with Hoggins and several others were aboard a bus going to Essequibo. During the journey Evans suddenly disembarked and picked up the bag belonging to Hoggins from the front passenger's seat. When Hoggins realised that his bag was missing he retraced his steps and acting on information received he went to Evans's home where he recovered the bag. He subsequently made a report to the police station and Evans was arrested and charged.
However, Evans stated that when he was disembarking the bus he did not see anyone around and he picked up the bag to keep it in case its owner came looking for it. He said that Hoggins had gone to his home and had gotten back the bag and all the items mentioned in the charge. He also noted that he was before the court on another matter and that since then he had been behaving himself.
"Jus gimme a lil three months nah," Evans requested, but  the magistrate sentenced him to twelve months imprisonment.
Around the Web