Attorney General Doodnauth Singh will vacate office at the end of the month.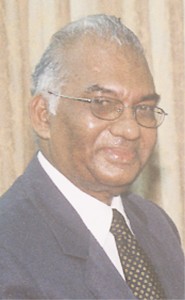 Singh has submitted his resignation as he prepares to retire from legal practice. "I have served the profession for fifty years and I thought it was time to turn in," he told Stabroek News yesterday.
A commemoration ceremony to celebrate his milestone was planned for the Georgetown Club last evening.
Although Singh's retirement has long been expected, his successor has yet to been named. PPP/C MP attorney Anil Nandlall has long been tipped to fill the post but his confirmation is far from a done deal.
Stabroek News understands that former Attorney General Bernard De Santos is also being considered for the post, although issues related to the Senior Counsel's health might be among the deciding factors. Additionally, there have also been rumblings that the government has considered offering the position to a leading attorney who is an opposition MP, though a deal appears unlikely.
Two weeks ago, President Bharrat Jagdeo, when asked about possible new appointments in the light of Singh's retirement, told reporters that no decision had been made as yet. He said the same in relation to the resignation of Foreign Trade Minister Henry Jeffrey and the question of whether the two foreign ministries will be merged as they were previously.
Around the Web