Last year was a good one for the mining sector and gold in particular even though stratospheric demand, prices and plans "collapsed" in the second half as a crisis gripped world finances and markets, Prime Minister Samuel Hinds said.
There was increased gold declaration at the small and medium scale level which reached 260,387 ounces, a record production for the size of the operations in play, and exports of the mineral brought in US$214.5M, the Prime Minister said yesterday at a press conference regarding the industry's 2008 performance. The sector provided increased earnings of 18% over 2007.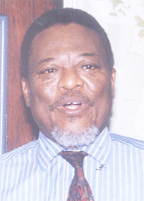 However, with the global financial crisis still raging, there have been cutbacks in some mining proposals. While gold prices hold steady, money for early-stage prospecting has been drying up. Hinds, who is the minister responsible for Mining, stated that holders of Prospecting Licences have said that where some gold reserves have been confirmed, they are considering establishing medium-sized operations. He said that they are considering starting with smaller-sized operations producing in the 10,000 to 50,000 ounces of gold per year range. "There are up to five such potential locations and they tell me there could be production in 12 to 24 months", he stated. He later explained that of the five groups considering such an approach, most are from Canada, and they are looking at smaller operations than they had originally planned.
In the bauxite industry too, he said, production and prices will be under great pressure this year and plans that had been discussed are on hold. He pointed to work done by Russian bauxite company, RUSAL, noting that they had done a feasibility study on developing the Upper Mazaruni Hydropower site and putting in a smelter and possibly an alumina plant but now this is on hold. As regards Chinese company, Bosai's plans to construct an alumina plant here, Hinds stated that the company is still holding to their studies "but they may construct it in two stages rather than one-off…I am hoping that their studies would still prove attractive in their circumstance to proceed with that development".
Carats
In his review of the mining sector's 2008 performance, the Prime Minister stated that diamond declarations continued to decline with 168,925 carats declared, about 100,000 carats less than in 2007. Exports of this mineral netted US$31.2M. He said that it can be expected that production and declaration of the gems will decline again this year due to falling demand and volatile prices adding to uncertainties in the area and also miners switching to gold mining.
Meantime, bauxite shipments also fell below 2007 levels recording a drop of 6% though increased production and sale of RASC calcined bauxite helped to bring an increase in the export value of bauxite products. Stone declaration was 50% above the 2008 target, and even so, Hinds pointed out, there were claims of shortages of stone and late delivery.  Revenues garnered from stone were estimated at US$11.7M.  Sand production was valued at US$3.4M though declarations continue to lag significantly behind estimates derived from the survey of pits.
Earnings from the sector totalled US$371.1M of which more than 95% was export earnings, an 18% increase in value over 2007. The sector, particularly gold, diamond and bauxite would have provided about 50% of total foreign exchange earnings, Hinds asserted.
He said that with the financial crisis, there was caution. "We are still to see fully how this recession will work through in the mining sector in Guyana", he declared.  The Prime Minister stated that while falling oil prices greatly reduced production costs, with the exception of gold, product prices have fallen even more.
He asserted that the thrust to search for and develop new economic deposits of bauxite, iron ore, manganese has been blunted for the time being. It was noted that last year US$24M was spent in exploration and in light of the financial crisis, there may be a 50% cut in prospecting expenditure.
The search for uranium for electricity generation, however, is holding as the world seeks non-greenhouse gases source of energy, Hinds said. He stated that there are about three or four interests seeking uranium locally and the signs are encouraging.
Meantime, as regards jobs, direct employment in the small and medium scale mining sector was estimated at 14,130 persons and in addition to the bauxite and quarry – sand, stone and loam sectors, the total direct employment was put at 15,660 persons with indirect employment of about 10,000 people. Hinds said that Brazilians in the mining sector may amount to 3,000.
He noted that small and medium scale mining were important to Guyana, and said that the sector has been steadily evolving.
The Prime Minister pointed out that prospecting for and developing possible economic deposits of minerals, oil and gas have been important in all countries not only for the direct employment and earnings, but knowledge of the land. He stated that mining paves the way for other economic activities and development which follow and urged miners to see themselves as "potential homesteaders."
Also present at yesterday's press conference were Chairman of the Guyana Geology and Mines Commission (GGMC) Board, Ronald Webster, Commissioner of the GGMC, William Woolford and Acting General Manager of the Guyana Gold Board, Anantram Balram. (Gaulbert Sutherland)
Around the Web