Two men accused of breaking into a number of stalls at the Bourda Market, were both remanded to prison yesterday when they appeared before Magistrate Judy Latchman at the Georgetown Magistrate's Court.
Andrew Lagnah and Toney Nandalall both pleaded not guilty to four counts of break and enter and larceny and two counts of attempting to commit a felony.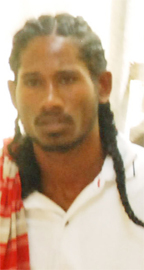 It is alleged that between January 25 and 26, at Bourda Market, Lagnah and Nandalall broke and entered the stalls of Orden Barber, Basmattie Persaud and two others and stole several items valued over $75, 000.
It is also alleged that during the same time the two attempted to break and enter two other stalls but were unsuccessful in carting off anything.
Lagnah's lawyer, Mohamed Zafar, applied for bail but was informed by the magistrate that it could not have been granted at that time because the Special Prose-cutor in the case was absent. Zafar then stated that his client would like to prove his innocence in the case, so he applied for an early return date for the case. The magistrate then ordered that both accused be remanded to prison. She also ordered that Lagnah return to court today for his bail hearing while Nandalall will return on February 16.
Lagnah and Nandalall were allegedly held with many of the items stolen from the stalls.
Around the Web