It took decades for businessman Lawrence Duprey to build an empire that controlled more than TT$100 billion in assets spread across the globe. It took just a week for it to start becoming unstuck.
As the government and the Central Bank engineered what could amount to a billion-dollar economic bailout for the asset-rich but cash-poor CL Financial conglomerate, group chairman Duprey admitted yesterday that he had underestimated the perfect storm of global and local financial troubles that made it impossible for CL's insurance flagship firm Clico to pay depositors who wanted their money back.
Central Bank Governor Ewart Williams and Finance Minister Karen Nunez-Tesheira announced sweeping moves yesterday to bail out the banking and financial services subsidiaries of the Port of Spain-based CL Financial Group.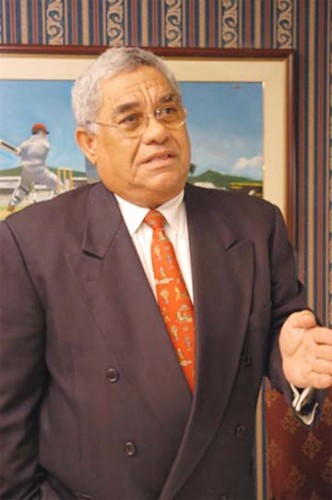 The Central Bank has taken control of Clico Investment Bank (CIB) and by next week the assets and liabilities of CIB and another subsidiary Caribbean Money Market Brokers, will be transferred to State bank First Citizens.
Government will also take an equity interest in Clico and British American Insurance in return for an injection of cash to help these companies protect depositors and policy holders.
Clico is the largest insurance company in the country and has more than 100,000 policyholders. It also provides group pension plan services for thousands of employees working in Trinidad and Tobago.
Duprey's CL Financial will also have to sell some of its lucrative assets in return for Government's cash and support.
CL Financial will give up its 55 per cent stake in Republic Bank Ltd, (worth billions of dollars), the country largest commercial bank.
Government will gain control of Republic Bank shares through the National Insurance Board and First Citizens.
The State will also assume control of shares in the CL Financial's energy firm Methanol Holdings Trinidad Ltd, which owns and operates M5000, the world's largest methanol plant at Pt Lisas.
In the past few weeks Colonial Life Insurance Company and Clico Investment Bank have been strapped for cash and in the past few days, the "bank began to face an unusually high level of withdrawal requests which put a strain on their available liquid resources", Central Bank Governor Williams told a press conference at the Central Bank tower yesterday.
Duprey said he approached the Central Bank for help on January 13 to raise the issue of financial assistance from the Bank.
Government's intervention means that policyholders and depositors with Clico life insurance plans and CIB and CMMB investments will be protected by Government.
"The principal objectives are to ensure that resources are available to meet withdrawals of third-party CIB depositors and Clico policy holders; to protect the funds of the depositors and policy holders and in so doing maintain confidence in Clico," Governor Williams said.
By Curtis Rampersad
Trinidad Express
Around the Web