The post-mortem examinations on the remains of the two women who were brutally murdered at Smythfield, New Amsterdam early Sunday morning proved that they died from shock and haemorrhage due to stab wounds.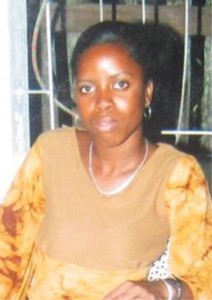 Three more suspects were arrested yesterday, bringing the number in custody to four. Among them is an early-retired sergeant from the US Army, who was held on Sunday. He had been charged with murdering his Guyanese wife in Germany in October 2004. He was eventually acquitted of the murder in May 2007.
The gruesome discovery of the remains of Nekecia Rouse, 25, and her sister-in-law, 18-year-old Alexis 'Keisha' George were made between 6:30 am and 7 am. George who was found first had wounds to her neck, while Rouse's body also bore stabs to the left ear and right shoulder.
Rouse, reports said, had been involved with the retired sergeant until some six weeks ago when their relationship ended.
Both women resided in the house where the stabbing took place but George's body was discovered in a yard obliquely opposite while Rouse's remains were found in the kitchen. They were both covered in blood.
At the time of the discovery, Rouse's four-year-old daughter, Crystal Stephenson, was in the house trying to answer calls from a cellular phone, while George's daughter, one-year-old Omatoya Rouse was lying in a bed. They were both unharmed.
Rouse, a part-time teacher at a primary school in New Amsterdam and a beautician at a salon also in the town had gone out to a party with her friends the night before. Reports are that a male friend dropped her home around 3 am.
Her mother, June Joseph, a COPS security guard who was at work at Gafoor's Wharf under the Canje Bridge, told Stabroek News yesterday that her daughter never indicated to her that she had any problems with anyone.
The woman said when she left home for work around 8.30 pm on Saturday her daughter was playing music and was in a jolly mood. She also told her mother that she was "going out for the night with her girlfriends."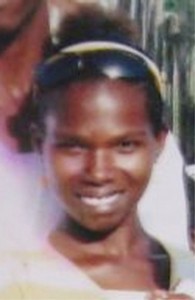 Describing her daughter as a very "friendly, jovial and pleasant person" with whom she got along well, Joseph said Rouse was hard-working and along with teaching part-time and cosmetology, she also worked at Nand Persaud International Communication and at Digicel.
Reports are that neighbours did not hear any screams. However, a resident of the area said he was returning home around 3.40 am after dropping off passengers in Georgetown when he saw a white Toyota 212 Carina motorcar speeding out of the area.
He said the car almost collided with him and he had to pull in a corner. The man said he even looked around to see if anyone was chasing the car because of the speed it was moving with.
This newspaper learnt too that a woman woke up during the wee hours of Sunday and heard a door at the house slam shut. She looked out and saw a car parked near an empty lot close by. Shortly after, she looked out again and saw a motorcycle without a number plate.
She did not realize that anything was amiss and went back to bed only to find out the following morning that the women were brutally murdered.
Dolly Joseph, the woman in whose yard George's body was found had told Stabroek News that  around 6.30 am her 14-year-old nephew was going downstairs when he saw a woman's feet and ran back up and raised an alarm.
Upon checking, the woman found George's bloodied body in a crouching position under a tree braced on an old stove. The police were contacted and arrived promptly at the scene and tried to gain entry to the house to check on the children but it was tightly shut.
Rouse's mother, June Joseph had told this newspaper that she got a call from her sister around 6.45 am that "me daughter-in-law get chop up."
She arrived at the scene shortly after and saw George's body in the yard. She then opened the front door with the keys and entered with the police not realizing that her daughter was also dead until the shocking and gruesome discovery was made in the kitchen.
It is unclear how the double murder took place but police sources said that they are working on the theory that the prime suspect, the retired sergeant may have been lurking nearby waiting for Rouse when she got home.
They also suggested that George, who had been at home with the children, might have been awakened by the commotion and left her bed to investigate when she was attacked.
Traces of blood were seen on the front stairs and on the street leading to the neighbour's yard. She apparently was unable to scream for help owing to the wound in her neck.
Police said the backdoor leading to the kitchen was securely bolted and they believe the suspect might have shut the front door behind him.
George's reputed husband, Travis Rouse has been residing in Trinidad for the past year. She left her Angoy's Avenue home to live with his mother last December.
Around the Web