As the February 28 deadline draws closer, the Lamaha Railway Embankment is almost desolate as most of the residents are now adjusting to living conditions at Westminster in the Parfait-Harmonie Housing Scheme, West Bank Demerara where most of them have been provided with house lots by the government.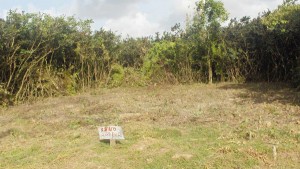 Stabroek News visited the West Demerara community on Tuesday last and spoke to a few residents .While a small number of households have settled in other sections of Parfait-Harmonie, most of the residents are putting down roots at the eastern section of Westminster, approximately two miles from the main road which is known as Middle Dam. The main road runs in a westerly direction through Parfait-Harmonie. The rough landscape is being developed by the residents and thick vegetation is evident at the eastern and the northern boundary of the community.
Last Saturday, the Guyana Water Incorporated (GWI) began installing standpipes in front of a few yards. According to reports, GWI will provide water free of cost for a short period of time while the residents apply for the service. Residents who already had water meters at the Lamaha Embankment will have to apply for a transfer of the service as is the case with electricity. Electrical poles with power lines have also been erected along the roads in the community.

Little shed
Joseph Ramkilawan, a tailor, said he had lived on the Lamaha Embankment for over 30 years and all of his five children grew up there. Most of them have since married and moved to their own homes. He said he and his wife along with a daughter moved into Westminster in late January. He spoke to this newspaper from a little shed where he and his wife took temporary lodging as his house was being constructed. He said he should be able to move into his new home next week, even if it is not completed. While life is difficult, according to him, he is happy to have his own home since he believes life on the embankment had become uncomfortable as the issue went back and forth with the authorities. Another resident, Zorina Arjune, a senior citizen, said she is also adjusting to life in the area. She says she is comforted by the fact that she now owns a piece of land and she expressed her gratitude to the Ministry of Housing for the assistance she has received so far.

School transfers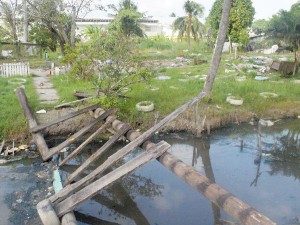 Some residents have voiced their concerns over issues which they believe need to be addressed as soon as possible by the authorities. One such resident is Lennox Howard, a father of four, who had resided on the Lamaha Embankment for over nine years. He said at a meeting last year they were promised transfers for their children to schools in the area. However, most of the schools in the area are filled and he said it is financially difficult to send his children to the schools they currently attend in Georgetown.
Another resident also expressed similar concerns since she said her eldest child is preparing to write the "common entrance exams" this year. She said transportation fees are difficult to muster but she has to make sacrifices since she does not want to interfere with her daughter's preparation for the exams.
Another resident said her daughter is preparing to sit the Caribbean Examinations Council (CXC) exams this year and the transportation cost, coupled with no electricity is posing a problem for her.
Residents told this newspaper that public transportation is only available up to about 6 pm and they are calling on the relevant authorities to provide street lamps since the area is usually very dark at night as a result of the thick vegetation which surrounds most of the community.
Mosquitoes
Another matter of concern is the mosquito infestation. The residents believe the nearby bushes should be cleared to a considerable distance from their places of abode while some believe there is need for adequate drainage as well as fogging to prevent the mosquitoes. A few house lots have been cleared but persons nearby said the owners of such lots are "waiting on the water to drain-off" before constructing their homes. A small excavator provided by the authorities was observed clearing unoccupied house lots.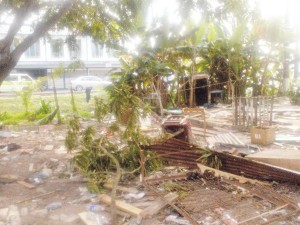 Stabroek News spoke to some residents who said they have adjusted to the new environment since they moved into the community last December. However, most of the residents only moved into the area less than two weeks ago. As such they are finding life difficult. But many expressed hope that they will adjust to the conditions in time.
Many persons said their places of employment are in Georgetown as they lament the cost for transportation. A father of seven said he is a mechanic by profession and he works in the city. He said he now has to work overtime to offset transportation costs. The man said the area is in need of a health centre since he asserts if a family member becomes ill at nighttime it would be difficult to find transportation from the area.
Meanwhile, the Lamaha Embankment between Vlissengen Road and Parade Street is almost void of habitation as a mere five households remain. Most of the houses have been dismantled, while a few were left standing.
Stabroek News visited the area last Wednesday and spoke to a resident who said the remaining families plan to move out of the area by this weekend. He also expressed concern about the cost for transportation to and from Westminster since he earns less than the minimum wage on a monthly basis. He said he has 4 children to maintain and expressed concern about the security of his family when they move into their new home. Farther east along the embankment, between Vlissengen Road and Owen Street, Kitty, the residents have begun to dismantle their homes as they await the truck provided by the authorities to transport their building materials. They said they had made preparations to move from the embankment over a year ago. A mother of two said she is currently living with her parents in Georgetown while her Westminster home in under construction. She plans to move into her new home later this year.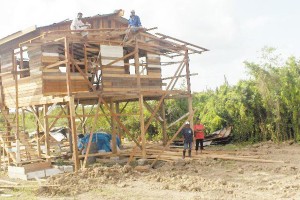 During this newspaper's visit to the embankment a few vagrants were observed sifting through the rubble left behind by residents while a few occupied fruit trees, one picking coconuts from a tree he had cut down minutes before. A nearby vendor said she noticed the vagrants frequenting the area over the past week and she also observed scrap metal dealers with horse drawn carts on the embankment.
The Guyana Power and Light (GPL) plans to use the Lamaha Embankment to link the Sophia and Kingston power stations with high-powered electrical lines. As a result over 1,500 residents from approximately 350 households have been relocated from the area; half of this number has taken up residence at Westminster.
Around the Web