A list of names and places including drug accused, dead notorious criminals and present and past members of the Guyana Police Force will be included in a questionnaire for prospective jurors in the trial of Guyanese drug accus-ed Shaheed 'Roger' Khan.
According to the list seen by this newspaper the jurors will be asked about their knowledge of a number of city businesses, including nightspots, two prominent hotels, a local pharmacy and even the Guyana Defence Force's Officers Club and Camp Ayanganna. The 'Timehri Airport' is also included.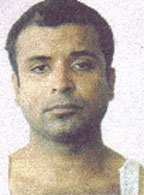 According to State Attorney Benton Campbell in a letter to trial Judge Dora L. Irizarry the list is the government's and includes the names of people, places and organisations to be included in the jury questionnaire. The list also includes the names of a number of US security personnel and one past employee of the US Embassy in Guyana.
The names of two individuals who once headed the police force and the army are also on the list along with present police officers who hold critical positions in the force. The names of local businessmen are also included. Names of drug accused and money launderers are also on the list along with local suspected drug traffickers in whom the US has expressed interest.
Kaow Island, where Khan had a forestry concession, is also on the list along with a number of businesses that were owned or associated with Khan. A local lawyer's name is also listed. The 'Phantom Squad', which Khan is accused of heading, is also on the list.
The names of a number of persons with whom Khan associated are included on the list along with a few former members of the army. One of those former members may be used by the prosecution during the trial as Khan through his lawyers has already attempted to prove that himself and the man were enemies and as such could never have conspired to traffic in cocaine.
He had claimed that the former officer once headed the army's operation in Buxton during the crime spree that followed a quintet's bloody escape from the Camp Street Prison in February 2002. Khan had also accused the former officer of acting in collusion with former prison escapee Shawn Brown. Brown was said to be behind the kidnapping of US diplomat Stephen Lesniak in 2003 and Khan had claimed that he played a role in the release of the diplomat.
However, Lesniak by way of email has since informed the defence that he knew nothing of Khan playing a role in his release.
Interestingly, the names of a number of dead persons are also on the list and these included the now dead prison escapee Dale Moore, who is said to be responsible for a number heinous crimes during the 2002/2003 crime spree, former cambio owner Farouk Razack, whose sudden death in late 2007 had generated a lot of interest.
The now dead Superintendent of Police Leon Fraser, who was gunned down on the Linden Soesdyke Highway shortly after the prison break, is also named along with activist Ronald Waddell who was gunned down on January 30, 2006 and Shaka Blair who was killed by police in his Buxton home. Blair's killings had caused an uproar in his village and it later led to policemen being targeted when entering the village of Buxton.
Also listed are the names of now dead Devindra Persaud and Donald Allison, both of whom the prosecution had accused Khan of killing.
Persaud was arrested in June 2003 at John F. Kennedy airport and was charged with bulk cash smuggling and conspiring to import cocaine into the United States. "Thereafter, Persaud was released on bond. He ultimately cooperated with US law enforcement, including participating in numerous proffers and agreeing to have his cellular telephone calls recorded, among other things," the document said adding that after his arrest Persaud's partner returned to Guyana and remained here.
On December 22, 2003, Persaud's wife, who resided here and operated a boutique, called him in Queens, New York. "In a call to Persaud's telephone that was being consensually recorded by the government, Persaud's wife informed him that 'Shorty', his bodyguards, and 'Ledge' had come into her store and threatened and pointed a gun at her while she held their child. She informed Persaud that they demanded to know his case number."
It was two days after this call that Persaud jumped bail and returned to Guyana and after he fled, agents with US Immigration and Customs Enforcement (ICE) searched his former residence and discovered, among other things, drug ledgers used by him. "In the ledger, 'Shortman' is reference(d) with a telephone number. Many other co-conspirators are listed in the ledgers. Individuals in the cocaine industry in Guyana, including Khan, suspected that Persaud was co-operating with US law enforcement," the document said.
Further, the document said, Khan and his closest associates were angry because they had learned that their names were contained in Persaud's ledger. Additionally, Persaud owed Khan a drug debt. Khan's organisation seized a BMW that Persaud had owned in the United States, and had shipped to Guyana, as payment toward the debt. "Khan's co-conspirators arrived at Persaud's store in Guyana and took his car from him. Eventually, Khan and his 'Phantom Squad' put a 'hit' on Persaud. In October 2004, Khan was informed by a member of his organisation that Persaud was at the Palm Court restaurant on Main Street, Georgetown.  In response, Khan stated, in sum and substance, that Persaud should be killed that night. Shortly thereafter, Persaud was shot to death at the Palm Court restaurant."
In relation to Allison, the government said its proof that Khan ordered the murder of the man will include the testimony from a witness that Allison and others imported cocaine into the United States that was obtained from the Khan organisation. Also that the cocaine was seized and that one of Khan's co-conspirators demanded proof that the cocaine was seized to prove that Allison and others had not stolen it. The prosecution also promised to produce testimony that "Allison refused to work in Khan's organization, and once publicly insulted Khan," as well as testimony that Khan's organisation shot Allison and  Khan took credit for killing him.
The government had hoped to include the aforementioned information in Khan's trial but Justice Irizarry has ruled against it only allowing  them to include the information of Khan threatening Persaud's wife and child with a gun.
Khan is facing an 18-count indictment for the distribution, importation and possession of cocaine and engaging as a principal administrator, organiser and leader of a continuing criminal enterprise in New York and elsewhere.
Khan, who is also accused of heading a powerful, violent cocaine trafficking organisation out of Guyana and could spend his life in prison if convicted, is also facing witness tampering charges along with his former lawyer Robert Simels, arising out of the said drug case.
Around the Web