A 40-year-old Herstelling seaman, who was hit by a motor car on Monday night, succumbed to his injuries early yesterday morning after spending 72 hours in the Intensive Care Unit (ICU) of the Georgetown Public Hospital (GPHC).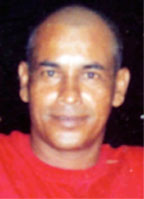 Jaisankar Gobin, called Kumar, of Lot 363 Herstelling, East Bank Demerara (EBD) was rushed to GPHC shortly after 10 pm on Monday after he was hit by a car while attempting to cross the Agricola, EBD Public Road.
Reports are that the man was attempting to cross the road when a car speeding north along the western carriageway slammed into him. When this newspaper visited the scene yesterday afternoon a resident of Agricola recalled hearing the "commotion" that night. According to the man, who declined to be identified, he was in his house when he heard what sounded like the "screeching of tires" so he looked outside.
"When I look outside I see this car deh slant way across de road and when I peep lil more I see a man lying on de road," the resident said.
Mahadeo Balkarran, the deceased pedestrian's brother, told this newspaper that he learnt of the accident on Tuesday morning and rushed to the GPHC only to find his brother in a critical condition. Gobin, he said, was taken there by the police and the driver of the car which had hit him.
As a result of the impact, Balkarran explained, his brother sustained a fractured skull, broken jaw, heavily wounded right arm and a shattered right leg.
Relatives, he said, knew that his brother was in a terrible state but still his death has come as a shock.
According to the distressed man, Gobin stayed with him and his family when he was not at sea. Balkarran said his brother had arrived at Port Georgetown about 7pm on Monday.
"He come home and spent some time with our parents who are both sick right now and then he left home about 9 pm that night to go buy a Chinese food," Balkarran recalled. "The next time I see he was in the hospital the next morning."
Balkarran said he learnt that his brother had gone to Agricola that night to visit some friends and he'd just gotten out of a minibus, attempting to cross the road when he was hit by the motor car.
A police source told this newspaper that the driver of the car had been taken into custody and is assisting with investigations.
Gobin also leaves to mourn an ex-wife and three children.
Around the Web