ST JOHN'S, (Reuters) – Antigua and Barbuda's government will move to take control of an island that it discovered was owned by Texas billionaire Allen Stanford, accused of an $8 billion securities fraud, a government official said yesterday.
Guiana Island, which Stanford controlled through a British Virgin Islands company whose shares he acquired, constitutes an additional 1,500 acres held by the US financier in the tiny Caribbean state at the heart of his business empire.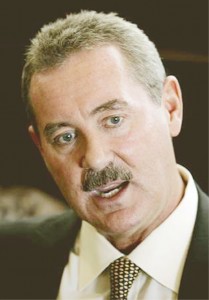 Antigua and Barbuda's government obtained parliament's approval last week to seize 250 acres of Stanford-owned land following the February 17 announcement by the US Securities and Exchange Commission (SEC) of fraud charges against the Texan.
"We have just discovered further assets of Stanford — some 1,500 acres," the government official, who asked not to be named, told Reuters by telephone.
"Our main aim is to make sure that the lands are returned to Antigua," the official added.
The fraud case has rocked Antigua and Barbuda, a twin-island state where the flamboyant financier and sports entrepreneur held businesses and properties and is the biggest private investor and employer.
The official said the cabinet would meet today to decide whether it would seek to take control of Guiana Island through the same acquisition process it had applied to the 250 acres already targeted. "That's on the cards," he said.
The SEC accuses Stanford, a colleague and three of their companies of carrying out a "massive Ponzi scheme" over at least a decade.
Prime Minister Baldwin Spencer's government has made clear it wants to seize the Stanford land — which includes plots housing his Antigua-based banks and companies, as well as beachside homes and development properties — to mitigate the fraud scandal's impact on the local economy.
This included guaranteeing the viability of a local bank, Bank of Antigua, that was owned by Stanford and suffered a run on its deposits by clients after the fraud case came to light.
The government says it also needs the Stanford land to ensure prompt payment of a "massive outstanding debt to local suppliers" owed by the Stanford Group and keep over 800 Stanford employees in their jobs.
"First and foremost is the well being of the employees and the entire economic situation," the government official said.
"We had to do everything in our powers to ensure that there isn't any significant fallout," he added.
He made clear that Antigua and Barbuda's government believed it needed to act to take control of Stanford's assets before a US court-appointed receiver moved to seize them.
"The government felt that it needs to ensure that everything is secure … It's more of a protective measure," the official said.
Last week, Antiguan authorities appointed their own receiver to take over the Antigua-based Stanford International Bank (SIB), which the SEC alleges was at the heart of a "massive ongoing fraud" that duped thousands of investors.
Control of Stanford's Bank of Antigua, where depositors rushed to withdraw funds last week, was handed over to a grouping of regional banks in an operation coordinated with the Eastern Caribbean Central Bank.
Guiana is Antigua's largest offshore island and one of the most pristine and ecologically important tracts of land in a state already blessed with some of the world's finest beaches.
It was sold in the late 1990s by the government of then-Prime Minister Lester Bird to Malaysian entrepreneur Tan Kay Hock for about $5 million to build an ambitious "Asian Village" of luxury Asian-style hotels, a casino, marinas, a golf course, a shopping center and a conference facility.
But the 1998 Asian financial crisis intervened. Tan only produced about $1 million and failed to develop the land.
The offshore island had been embroiled in litigation since then, but the government official said it had emerged from the SEC investigation that Stanford acquired control of it.
"The land itself was not sold to Mr Stanford. What we discovered he did was to buy the shares of the company that owned the land," he said.
Around the Web