Chief Executive Officer of the Hand-in-Hand Group of Companies Keith Evelyn yesterday said that the Hand-in-Hand Trust Corporation will remain a stable and safe institution even if it were to lose the money that it has invested in the Antigua-based Stanford International Bank (SIB).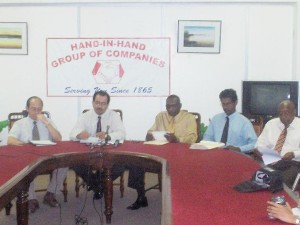 Speaking at a press conference yesterday afternoon, Evelyn stated that Hand-in-Hand Trust had invested approximately $822 million (exchange rate of $203 to US $1) over the last year. He also said that two pension schemes under its administration were also exposed. Evelyn stated that these investments made by pension schemes under their Trusteeship are not the responsibility of his company. He explained that these pension schemes have their own investment committees which make their own decisions. The CEO said that the job of his company would be to implement these decisions and keep the necessary records.
Evelyn explained that the corporation currently has assets in excess of $9 billion and that liabilities to depositors total $7.2 billion at this time. Consequently, the CEO said that if the investment to Stanford was not recovered, this would not have a devastating effect on the company.
He stated that the Hand-in-Hand Trust has been investing in the SIB over the past 3 years and said that this bank has always been faithful with  its interest payments.  Evelyn said that decision to invest here was made by the Investment Committee of the Company after it had carried out due diligence studies.  The CEO stated that at no time did this arrangement appear too good to be true and said that the interest rate of 7 percent that the bank was offering was good but not extraordinary.
The CEO explained that while currently the investments in the SIB are being considered "impaired" in the company's books in keeping with accounting rules, they were confident that they will reclaim some of the money invested.  He said that efforts are being made to safeguard these investments. Efforts include communication with the regulatory authorities in Antigua and the retention of the services of a Miami-based legal firm.   He said that this firm has been urged to take the necessary steps to protect the corporation's investments.
The CEO stated that while the firm has a number of overseas investments they are currently all "solid and liquid".
Meanwhile, the company has met with the company's depositors and nearly 80 percent have expressed confidence in the organization Evelyn stated.  Some of these have even increased their deposits with the institution, Evelyn added.
Around the Web