Workers who were digging a "shallow well" for household use in the Grove New Housing Scheme were taken by surprise as hundreds of gallons of water suddenly began spurting from the earth to a height of approximately 25 feet.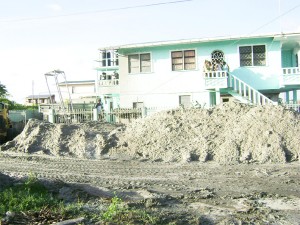 The incident occurred at about 9 am yesterday and the water continued shooting into the air for nearly two hours. However, water was not the only thing that erupted from the man-made opening in the earth.
When this newspaper visited the location yesterday residents were still gathered at the site and workers were working diligently to clear a mixture of sand, clay and stones which was thrown forth from the earth with the force of the water.
The owner of the Lot 53 C, Grove New Housing Scheme, East Bank Demerara home told this newspaper that he had employed several men to dig a "shallow well" so that he and his family could get water for household use. The concrete fence and walls of the Lot 53 C house were cracked and the back section of the house appeared to have sunk. Other buildings within close proximity sustained no damage.
"This thing go off like a damn volcano," one of the men who had been digging the well said. "I think is dig we dig too deep and this underground water just shoot up out of nowhere with a set of slush and stones coming with it."
There was a sudden vibration, the worker recalled, before the water suddenly erupted from the well they had been digging. According to him, it was this vibration that caused the house walls and fence to crack.
Residents reported that a mixture of "mud, sandy material and stones" was pushed high into the air by the force of the "underground water" which covered the adjacent street. A resident who lives directly across from the Lot 53 C yard told this newspaper that she was in her kitchen when she heard the a series of "bangs" on her roof.
"Is when I peep outside to see is who pelting brick," the woman explained. "is then I gonna see water spraying out from dem people yard and is then I realize that is de stuff that mix in de water hitting against me roof."
While residents expressed disbelief at the "freak accident" this newspaper learnt that no one was injured as a result of the water eruption. However, they informed that a large section of the area had not been getting water from the Guyana Water Incorporated's (GWI) connection.
"Even those who are getting water in the area are barely getting trickles," one woman stated. "That is why people digging they lil shallow well and thing cause we need water to get by."
Extraction of groundwater by wells requires the permission of GWI.
Around the Web