(Barbados Nation) Dis-graced financier Sir Allen Stanford distributed unimaginable largesse to a far-flung empire of dependants, including £200 000 (about BDS$600 000) to five children by four different women, claims The Mail On Sunday.
The British newspaper in an investigative report said the self-styled banking billionaire who promised to pump millions into international cricket, but who is now under investigation in his native United States for money laundering and fraud – to the tune of £5.3 billion (about BDS$16B) – is said to have three "outside wives" who gave birth to his illegitimate children.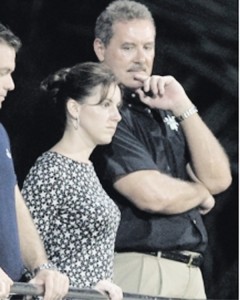 And last week his glamorous right-hand woman, the statuesque 'ice maiden' Laura Pendergest-Holt, was charged with obstructing the investigations.
London's The Mail On Sunday also revealed that the hulking Texan's personal life is as tangled and secretive as his business empire.
He remains married to Susan, his wife of 34 years, by whom he has a daughter, Randi, 26. But his father, James Stanford, 81, confirmed recently that his son has at least four other children by mistresses, known as his "outside wives," to whom he has been paying more than US$500 000 (BDS$1M) a year to support the children, according to court records and other public documents.
Stanford Snr said: "I felt bad for Susan, him having all these outside wives and all these kids. I wouldn't have approved of it but I heard about it after the fact."
Pretence nothing new
This lifestyle is at odds with the rather grand image Stanford Jnr has created for himself. His knighthood – a Caribbean title which he misleadingly claimed was bestowed upon him by the Queen – not only prompted him to affect a vaguely British accent, but he bought a moated mansion in Miami, which he called Tyecliffe Castle, and insisted he was more at home at a cricket match than at American baseball games.
He also sponsored the Sandhurst Cup polo competition, attended by the Prince of Wales, and claimed to be related to the founder of the elite Stanford University in California until it denied any relationship and then filed a trademark infringement against him for misusing its name.
But Stanford's pretence at old-money grandeur is nothing new. His wedding in Susan's home town of Teague, Texas, on a hot September evening in 1975 was reported in the local newspaper as if it were a dynastic match, with the bride adorned, in "Venice lace, lavishly appliqued on white English net."
Teague, however, is a dusty rural town on the scorched cattle prairie of Texas. Susan's father was a train conductor and her parents own a simple bungalow on a street where their nearest neighbour lives in a trailer.
Divorce ongoing
Susan was a dental hygienist and Stanford, whose father inherited an insurance business, ran a chain of health clubs. His mother, Sammie, was a nurse.
Stanford Snr, who lives in a modest cottage, told The Mail On Sunday: "Allen didn't take after me with his lifestyle. You could compare him more, I suppose, to Sammie. When he was nine, she took off with another man and took Allen and his brother with her. She had three more husbands after me."
By the time he made his first fortune in Texas real estate in the 1980s, Stanford was already an accomplished womaniser. He later had a son, Reid Allen Stanford, 17, by a woman who goes by the name of Susan Stanford-Mahan, who worked for his health clubs and now, at 53, lives with Reid in a brick mansion on a gated estate in Dallas.
Another 'outside wife,' Beki Reeves-Stanford, 54, lives on the Florida island of Key Biscayne, and had a son, Robert Allen Stanford Jnr, in 1993. The third 'outside wife' is Louise Sage, from Dartford, Kent, by whom he has two children – Ross, 13, and Allena, 11. The tycoon's long-suffering wife Susan petitioned for a divorce in November 2007. The proceedings are still going on.
His father's second wife Billie noted that the financier is now dating an American brunette, Andrea Stoelker. "It won't last. She's 30 – getting a bit old for him," said Billie.
Paternity suit
Stanford's womanising was common knowledge in the company – as was the fact that all his women, like his employees, were financially dependent on him and subjected to his controlling manner. "Andrea was a cocktail waitress when Stanford met her," said his former head of marketing Ron Rossi. "Now she's got a mansion in Miami and goes around wearing a big diamond necklace. She would be at every function with Stanford, but no one was supposed to take a photograph of them together."
"I could never understand what he saw in Andrea. She may be half his age, but she's quite ordinary. She's nothing like Laura Pendergest-Holt, who is very attractive, about six feet tall and has a dazzling personality."
Stanford incorporated his first bank in the tiny British colony of Montserrat and always claimed that he moved his business to Antigua in 1985 because of a clash with British regulators. Others, however, say he left the island after being beaten up in a row over a girlfriend.
Details of his extraordinary lifestyle funded by his income from the bank – now alleged to be a conduit for money laundering – are contained in a paternity suit filed by Louise Sage under the name 'Louise Stanford.'
The suit, which was settled last August, outlines yachts chartered for family holidays at £70 000 (BDS$210 00) a week, a fleet of private aircraft, a Lincoln limousine and driver on 24-hour call, and a house rented for Louise and the two children at £16 000 (BDS$48 000) a month.
When they broke up after 12 years together, he continued to lavish money on this secret second family, spending £500 000 (BDS$1.5 million) a year on housing, food and school fees to ensure his children maintained their privileged and luxurious lifestyle. But the court papers also reveal that Sage risked losing everything when she "secretly" married American-born Michael Alfieri in August 2007.
Matters were made worse when Stanford discovered that Alfieri had "a criminal record . . . for serious offences including, but not limited to, aggravated assault with the intent to commit felony, aggravated battery, and possession of controlled substances."
Adapted from The Mail On Sunday.
Around the Web