Sparrow, King Konris – and a Minister's Concern

Believe me, I love Caribbean Calypso dearly. I mean sweet, simple, witty, cleverly-constructed and arranged Kaiso – whether the "Big Yard" or Tent Versions and from the Extempo to the Soca-free variety.
Naturally, I mourn for the general decline in the purer version of the calypso art-form, in Guyana and Trinidad and Tobago, as well as whenever soca, hip-hop and dance-hall reggae have inflicted significant injury on calypso.
Mind you, in Trinidad at their last CARIFESTA, I enjoyed a presentation by Valentino in which he claimed to trace the influence of calypso upon virtually all other musical art-forms and genres.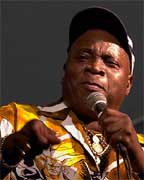 (Most provocative and debateable that…)
However, the paragraphs under this one will deal briefly with the intrusions upon and state of calypso especially in our Guyana where the earlier Trini veterans used to come to test the "quality" of their calypso being readied for Carnival and thereafter. And it is cold comfort but informative, never-the-less, that even the Trinidadian home of calypso is also concerned about the state of their calypso and the challenge to their traditional Calypso Tents – in season and out of season.
Calypso's better days
here
Guyana's Gordon Rohlehr is one authority who can discuss the origins and history of the calypso – whether from its African beginning, French influences and/or Trinidadian-Caribbean development.
Another Guyanese, Eddy Grant, once set about the task of acquiring the rights to the oldest veterans of Trinidad's calypsos as he did those of the "Calypso King of the World" Slinger "Mighty Sparrow" Francisco.
Which brings me to something old and something new, in terms of Calypso-related issues which I read in the January – February 2009 edition of the Caribbean Beat magazine.
The "something old" is a biographical sketch of calypso writer, Trinidadian Winsford "Joker" De Vine. It has to be some thirteen/fourteen years ago that I discovered the reported genius of this calypso-maker. But Stabroek News Editor-in-Chief David de Caires won't let me repeat De Vine's interesting revelations of hurt if I couldn't get a right-of-reply response from the Sparrow.
None can deny Sparrow's now icon status, but "Joker" Devine then, as now, laments Sparrow's alleged ingratitude to him.

I also won't repeat here, the tales of Sparrow's relationship with Guyanese calypsonians, arrangers, musicians and promoters from the sixties onwards. (When I developed that last July, a knowledgeable Trinidadian commentator responded interestingly, quoting Sparrow's perspectives of those formative years.)
But they all came here – Sparrow, Blakie, Melody, Douglah, Francine, Rose, et al. They mixed with our Coffee, Cobra, Panther, Canary, Fighter, Intruder, Monica Chopperfield and the best of the pre-eighties exponents of that musical art-form which we then boasted.
Dance bands like the Luckies, Washboards, Syncopators and greats like Harry Whittaker and James Smartt knew how to complement or improve our ca1ypsonians offerings. Even if their backing assumed smaller, but expert dimensions. Then, the lyrics were witty, pointed and effective and the melodies simple, sweet and short enough to be catchy, even lasting. (And here I'm not even discussing the unique contribution and style of Shanto-Calypsonian Bill Rogers – a pioneer whose work was recently published for Carifesta Ten). Suffice to state that when the Trinidadian Calypso Bands and singers came here, they found a corps of locals who commanded their attention.
The reasons are varied and various, but Guyanese Calypso suffered qualitative setbacks by the late nineties. Of course, the seventies ushered in Mashramani festivals and their kaiso components, but economics, politics, migration, the rise of Jamaica's reggae, Trinidad's respect for the "Soul Calypso" – the So-Ca — which international tourists and markets seem to prefer, and even the Bajan and "Small-Island" improvements, seem to influence the Guyana Calypso decline.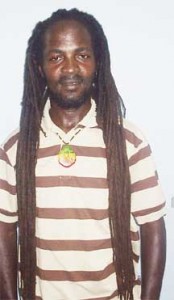 Mind you, a good Album was produced, in Barbados, of a collection of Guyanese Calypso in the midst of the burgeoning slide. Late seventies to late nineties saw gallant efforts and good songs from exponents like the veterans Canary, Intruder and, to some extent Lord-Eddie Hooper Inventor; then folks such as El Cid, Hitman Hemerding, Lenny Lancaster, Lurlene, Stella, Mighty Duke, Ayambo, Kendingo, Bright Colours, Winfield James, Blazing Fire, Mighty Limus and the Mighty Rebel, to mention a few. But the truth – and evidence – reveals a real decline as the 2000 millennium dawned.
Guyana calypso
now…
Those concerned calypsonians left and a few defender-apologists will point to a few "explanations": lack of "sponsorship" after Mashramani, the intrusion of American tastes; the fusion challenges facing "pure" kaiso; no professional association, government's indifference, few good arrangers and bands.
Even if those "causes" are valid, I share my own views still. No I don't read music, but I'll contend I know a good calypso when I hear it. As distinct from the more popular "aerobic socas". I feel myself to be a connoisseur of good calypso. (Like Canary, Hector, Cecil and his brother, "Father" and a few other seniors still around…) So what is the problem?
It is my considered opinion that too many of today's (would-be) ca1ypsonians attempt too much in one calypso.
Too many words in one line; too many messages in one verse; making verses of choruses; and in a word, composing kaisoes that are too complex and fussy for appropriate arrangement, especially in the "hands" and capabilities of the inexperienced.
One regular arranger explained that too many of today's calypso aspirants are not too given to modifying their original compositions, or even to taking general advice regarding the final musical product.
Again, I'm not even referring to voice, ability to modulate and to utilise musical cues.
I understand that the recent Mash Calypsoes were generally way below acceptable standards – and that, as a calypso lover, I missed nothing noteworthy by being absent. You can't "legislate" good calypso.
That comes from innate creativity, assisted technical -professional expertise and appropriate motivational guidelines. But I know that cultural officialdom is full of concern and is having difficulties in being confident to allocate the millions they now do, only to experience calypso mediocrity.
The Ministry of
Culture and Calypso
The Minister of Culture is worried about the art-form but he is prepared to give the taxpayers' monetary blessings in a near-final gesture.
He is aware that the Junior Calypso competitions are not producing enough competent graduates to the (dubious) senior level. The Minister is contemplating a gathering of calypsonians, arrangers, musicians, judges and, perhaps, respected acceptable Trinidadian Calypso veterans for one intense inter-active workshop.
Practical sessions, it is hoped, will assist young and old to appreciate how to compose; to appreciate the arrangers and musicians' roles, criteria for judging, the difference between pure calypso and its offshoot, the soca.
Will it work? Will they listen? It remains to be seen. What is certain is that the Minister and many of his Mashramani management colleagues are in consonance that something drastic needs to be done to salvage calypso,    chutney, soca and masquerade. Expert as they are, I know that my favourites, Rebel, D'Ivan and Black Hat will listen. Slingshot and Canary might attend, I guess, but to contribute forcefully.
Small – Island
Calypso and Konris
Meanwhile, Caribbean Beat's Gary Stickles claims that St. Kitts' Konris Maynard – King Konris – now epitomises the ascendancy of "small-island" calypsonians. An academic, actor, churchgoer, he is an excellent exponent of the art-form who was the St. Kitts Monarch from 2005 through 2007.
Apparently, a golden age of sweet calypso is dawning in the Eastern Caribbean even as "traditional calypso and classic soca have never been worse in Trinidad, where they have been overwhelmed for more than a decade by the jump-and-wave onslaught of ragga -the soca equivalent of reggae's dance-hall"
So yes, calypso is in trouble elsewhere. However, it is an art-form that identifies many of us in these parts. Others can expound about what calypso is and does, I conclude by hoping for calypso's resurgence.
Right here.
That would be as much a tribute as Sparrow symbolised when he visited his ailing one-time promoter and manager Cyril Shaw in Georgetown a few weeks ago. And Calypso's renaissance here would also please two virtual shut-ins as they listen with concern, in their old-age: Lady Guymine and the Mighty Kaieteur.
Let us set about not letting them down.
Around the Web