"People talking say I kill them but wa me go kill them for…," Bibi Rafzia Grovesnor, the mother of the dead Ramdeen sisters, sobbed repeatedly yesterday.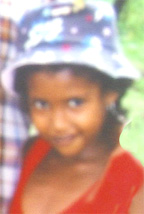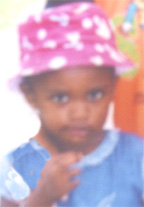 Afiena, 5, and Aaliyah, 3, died within a day of each other after Grovesnor gave them senna pod tea followed by an anti-diarrhoeal tablet. Post-mortem results revealed yesterday that dehydration and an overdose of medication caused the deaths of the sisters. Grovesnor had been taken into police custody last Thursday after she reported the death of Afiena. At the time, Aaliyah was clinging to life At the Georgetown Public Hospital. She died shortly after being transferred to the hospital's Intensive Care Unit (ICU) early last Friday morning.
A senior police source told this newspaper that although investigations are ongoing, based on information gathered thus far Grovesnor is not likely to be charged over the deaths of her daughters. The woman gave the police a statement yesterday afternoon.
When contacted by this newspaper yesterday morning, the grieving mother said she was at La Grange Police Station where she was ordered to report.
Grovesnor explained that she didn't learn of her younger daughter's death until Sunday evening when she was released by police on station bail. Her voice unsteady, the woman told Stabroek News that she was granted $20,000 bail on Sunday with the condition she would report to the police the following morning (yesterday). Her sister, the woman said, paid the bail. "She use she light bill money to help me out," Grovesnor stated.
While in police custody, the woman recalled, she was isolated from her relatives and had to deal with her "grief" and "guilt" alone. Grovesnor stressed that all she intended to do last Wednesday was give her daughters a "clean out. When I was in the police station this policeman came in and look right at me," Grovesnor said between sobs. "You know what he ask? He turn and ask [if] I is de woman dat kill she two children."
Rumours about what had happened, Grovesnor said, have been adding to the pain she feels. She said her reputed husband, Troy Ramdeen, is now blaming her for the deaths of their children and has threatened to leave her.
"Mommy me love you…"
Last Tuesday, Grovesnor said, she went to a community shop and purchased $40 worth of senna pods -– a natural laxative. The woman explained that she soaked a quantity of the senna pods overnight in some water.
The next morning (Wednesday) she strained the senna pods which gave her less than half a cup of liquid. Grovesnor said she gave that to Afiena and added water to the already soaked pods, shook it up and gave that lighter version to the younger Aaliyah.
Grovesnor said she sent Afiena to school that day with a napkin and up to 12.30 pm Wednesday when her older child returned home neither of the girls had experienced a bowel movement. Both girls were given something to eat, the mother said, and just after 1 pm Afiena began making sounds as if in pain.
"I didn't take it for anything when she start making those sounds," Grovesnor said. "I say is gripe she belly griping because of the senna."
Just before 2 pm that day, Grovesnor said, her daughters began experiencing bowel movements which showed no sign of stopping several hours later. At that point, the mother stated, she decided to purchase Lomotil at another community shop.
A sales representative from that shop had told Stabroek News last Thursday that they had advised the woman to give each child half a tablet. However, Grovesnor denied the claim, insisting that she was told to give one tablet to each of the girls.
After the girls swallowed the tablets, Grovesnor explained, they began vomiting but Afiena was worse. Aaliyah, the woman stated, lay quietly in bed. It wasn't until midnight after Afiena vomited what "looked like blood," Grovesnor explained, that she decided to take her to the hospital. But she could not get transportation.
Before going to sleep, Grovesnor recalled, Afiena told her, 'Mommy me love you. Me belly hurting, mommy, but me love you.' Two hours later, the woman said, she climbed on the bed to change Aaliyah and accidentally touched her older daughter's foot. To her horror, she realized that Afiena had died and a closer examination showed that her stomach was "puffy."
OTC Drugs
The Ramdeen tragedy has raised questions about the sale and packaging of senna pods and the fact that Lomotil, a prescription drug in Canada and the US, is an over-the-counter (OTC) drug in Guyana.
In an invited comment yesterday, Marilyn Collins, Head of the Ministry of Health's Food and Drug Department, told Stabroek News that the body was responsible for ensuring that drugs are properly packaged and labelled.
Collins explained that the lack of proper packaging and labelling of drugs is an offence, as stipulated under the Food and Drug Act. However, when asked whether senna pods should be pre-packaged and labelled before being sold, Collins said she was not in a position to answer.
Further, when questioned if her department would be able to determine whether the senna pods purchased by Grovesnor at the Sisters Village shop were expired, Collins only said that it depended on a number of factors.
Minister of Health, Dr Leslie Ramsammy, at a press conference last Saturday said, "senna pods and Lomatil are both over the counter drugs, but from advice it is not good to combine the two for cleaning out the body."
Ramsammy said children should be part of a clinic and advice should be sought from primary health care providers when it comes to administering medicine to them.
This newspaper had learnt from a source within the Ministry of Health that Lomotil should be a prescription drug. However, several efforts made to contact Chief Medical Officer Dr Shamdeo Persaud yesterday to verify this were futile.
Lomotil contains 0.025 milligrams (mg) of atropine sulphate and 2.5 mg diphenoxylate hydrochloride.
According to flora-health.com, senna pods are obtained from the plant Cassia angustifolia or C. acutifoli which is used medicinally as a laxative for the purpose of cleansing the body. An overdose of senna pod tea can lead to painful stomach cramps and diarrhoea.
Around the Web