Three Guyana Defence Force (GDF) officers and 57 other ranks have been deployed to Trinidad and Tobago to assist with security measures for the Fifth Summit of the Americas set for April 17-19.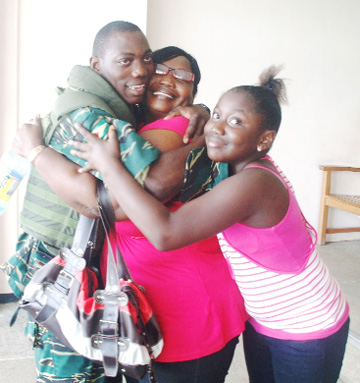 In a press release the army said the ranks were deployed under the direction of Commander Major Dwain Jervis. The team will join the advance party of GDF officers and soldiers who left in February to assist with security arrangements for the meeting. The troops form the main body of security personnel deployed by the GDF for the Summit, the release said.
The Trinidad government had requested assistance from regional defence forces for security for the Summit in keeping with commitments made by Caricom heads regarding the Region's security mechanism. The troops will be augmented by 30 members of the Guyana Police force and "shall work in collaboration with the security forces in the twin-island Republic and other members of other Regional security forces," the release said. Prior to their departure, the GDF said the troops were engaged in preparatory training aimed at boosting the joint training exercises with the other security personnel.
GDF Colonel General Staff Mark Phillips who addressed the troops on Wednesday, said the deployment continues the army's proud tradition of augmenting the security apparatus within the Region. He said the Force is honoured that Guyana and the GDF were once again asked to provide personnel and expertise for such an important function.
The soldiers are prepared to execute their duties with honour, Phillips said. Several of them, including a few who are being deployed for the first time expressed confidence in their abilities and pride at being selected to serve their country abroad. The army said it also provided transportation for parents and relatives of the troops to meet with them and to witness their departure.
The team departed on Saturday evening aboard a Brazilian Air Force Boeing 707. The army said Phillips along with other senior army officers and Brazilian military attaché Colonel Eudes Dos Santos also witnessed the troops' departure.
Around the Web