The police yesterday issued an arrest warrant for a 22-year-old in connection with the shooting on Main Street last Sunday morning which saw three men injured, one of whom has been taken into custody even as he lies on a hospital bed.
The police named Abdul Imran Khan as being wanted for questioning in relation to discharging a loaded firearm. They gave his last known address as 11 Austin Street, Campbellville.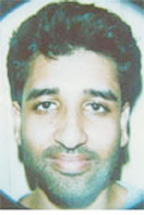 Last Sunday morning, gunfire erupted when two men, who were involved in an argument in the New Courtyard Restaurant and Bar drew their weapons at the corner of Main and Hope streets and fired at each other hitting other persons in the process.
Those injured were 45-year-old Joseph Nedford, a vendor outside the nightspot; 35-year-old Erasto Roberts of 554 South Ruimveldt and Jamal Douglas, 22, of Turkeyen, East Coast Demerara.
Stabroek News was told that Roberts is under police guard as he recovers from his gunshot wound as he is suspected to have been involved in the shooting. When this newspaper had visited the man at the hospital on Sunday he had said he was on his way home when he heard gunshots.
"I run to me car and even forget my small cousin that was with me and then I feel a burning sensation to me chest and I pass out I don't even know how I end up here," the man had said. Asked if he was involved in an argument with anyone the man had said: "I had no argument with anyone maybe there was an argument going on but I don't know anything about it I was just going home and trying to get to my vehicle," while adding that his vehicle was taken into custody.
The police in a release had said during their investigation a search was conducted on a motor car and an unlicensed .32 Taurus pistol with five matching rounds was found. A 9 mm spent shell and a .32 spent shell were found on the scene by the police.
Meanwhile, yesterday Douglas said he was an "innocent bystander" when he was shot. The young man said he was standing outside the nightclub when he heard gunshots and the next thing he knew he was hit and had to be rushed to the hospital. The young man told Stabroek News he had no knowledge of what transpired before the shooting nor did he know who was involved in the incident. "I was no way involved," he said.
And the police are asking anyone with information that may lead to the arrest of Khan to call them on telephone numbers 225-6411, 225-6941, 227-1149, 226-7476, 227-2128, 226-7065, 911 or the nearest police station.
Around the Web