The police on Saturday released on bail Abdul Imran Khan, for whom they had issued a wanted bulletin in connection with last Sunday morning's shooting on Main Street.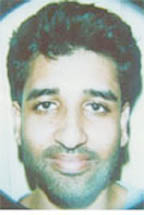 From all indications the man is not likely to be charged as there is no evidence that he discharged a firearm at the scene.
Stabroek News was told yesterday that Khan, who turned himself in last Tuesday afternoon, hours after a wanted bulletin was issued for him, has been released and while his name was called in relation to the argument at the scene of the incident no one has come forward identifying him in the shooting.
Another man, Erasto Roberts, who was one of the three persons shot during the incident, has since been remanded to prison after appearing in court on charges of the unlawful possession of a firearm and ammunition.
Roberts, 35, Joseph Nedford and Jamal Douglas were shot when two men involved in an argument drew their guns and fired at each other.
The police in a release on the shooting had said that during their investigation a search was conducted on a car and an unlicensed .32 Taurus pistol with five matching rounds was found. A 9 mm spent shell and a .32 spent shell were also found on the scene by the police.
Stabroek News was told on the day of the incident that Khan was a regular at the nightspot and that he and another man got into an argument. The other man, who was deemed as the aggressor, was put out of the nightspot and Khan later followed him and shortly after there was an eruption of gunfire.
On Tuesday the police named Khan as being wanted in connection with discharging a loaded firearm. Police yesterday said they put out the bulletin based on information they received at the scene and also because they went to the man's home and searched but he was nowhere to be found.
Nedford had told Stabroek News that he was vending outside the nightspot when he saw two men arguing and one of them drew a gun and fired at the other. This prompted the other man to rush to his vehicle from which he took out a weapon and he also opened fire.
Around the Web