The Venezuelan Embassy and the Venezuelan Institute for Culture and Cooperation (IVCC) last week held a ceremony to present certificates to the participants who have completed their first course of art and craft under the theme 'Empowering Women'.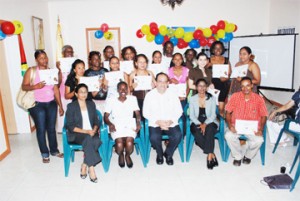 The ceremony which was held at the IVCC's New Garden Street location saw 18 students receiving certificates and showcasing their tie-dye and fabric painted pieces.
The organisation offers several other courses which all seek to develop a sense of independence and self-sufficiency among women, especially those who are unemployed.
The courses combined run for a period of about one year with each being offered over approximately one month and then a certificate ceremony is held to mark its completion.
The lecturers Asha James-Forde and Mark Szala both spoke of the joy derived from teaching the courses and working with the women.
Venezuelan Ambassador to Guyana, Dario Morandy expressed pride at the work done by the students who he said have been working tirelessly over the past weeks. The ambassador stressed the importance of the students taking up the challenge to keep elevating themselves and encouraged them to be entrepreneurs so that they will be able to generate capital from the skills that they would have learnt. Morandy has made a commitment on behalf of his government to continue supporting the programmes.
When Stabroek News caught up with some of the students, they expressed satisfaction and pride at successfully completing the course.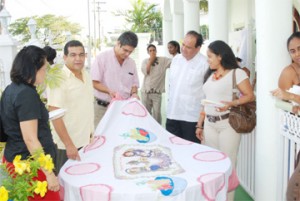 Jennifer Moonsammy and Anita Thakurdin told this newspaper that the programme was a rewarding one and they both have intentions of opening their own businesses in tie-dying.
Also present at the ceremony were Sheila Veerasammy, Head of the Guyana Women's Leadership Institute and Coordinator of the Guyana Women in Development, Merlin Udho.
Around the Web