Desiree Thomas'  wails were the only greeting at her Lot 7 Prince William Street home yesterday as she mourned the death of her son, Marlon Britton who died yesterday about three hours after being shot in the face.
"Ow, ow, ow, ow God meh son," Thomas cried; the sound bringing tears to the eyes of other grieving relatives. "If you see wa dem do he face, if you see how it bus' up, ow God meh son."
Britton was rushed to the Georgetown Public Hospital (GPH) on Monday night. He sustained a gunshot wound to the right temple, which reports say, exited on the opposite side causing extensive brain damage. Doctors at GPH fought to save Britton's life but lost that battle early yesterday morning.
Police, in a press statement yesterday, said they are investigating the murder of Britton, 32, which occurred at about 10.10 pm on Monday at Prince William Street, Plaisance, East Coast Demerara. The man, according to police, "was leaving the residence of his fiancé when he was confronted by a man armed with a firearm. The armed man discharged rounds at Britton hitting him to his face and neck, after which he escaped."
Stabroek News was informed by Britton's relatives that the woman (at whose residence the shooting occurred) and a man have been taken into police custody. Relatives said that while two cellular phones, two gold bands and one gold chain along with a quantity of cash were taken from Britton they do not believe he was robbed. Britton's murder, according to them, resulted from "the dots being connected in a triangular love affair".
Initial reports reaching this newspaper had said that Britton, who lived with his reputed wife, daughter, mother and sister at the Lot 7 Prince Williams Street, Plaisance home, was at his "girlfriend's house" when the incident occurred. The distraught woman, reportedly in police custody, had related at the hospital on Monday night that she had gone inside the house and left Britton sitting on the steps outside. He was alone. Soon after, another young woman who was in the house happened to look outside and saw a man pointing a gun at Britton's head.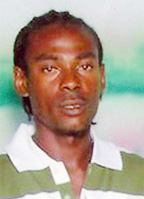 The young woman in the house shouted out, alerting the other woman and others but by the time they ran outside a gunshot was heard and the man was making good his escape.
However, relatives stressed that Britton was not engaged to the woman with whom he was with shortly before being killed. Windia Thomas explained that her nephew had mentioned the woman, who lives at the opposite end of Prince William Street from the Lot 7 house, several times to relatives. According to Thomas, the man had been involved with the woman since last year but she was uncertain of the "true nature of their relationship".
Thomas said that they have since learnt that the woman was involved in another relationship with the man who they suspect shot Britton. Relatives, according to Thomas, had been informed that the suspected gunman had learnt of Britton's involvement with the woman and became jealous.
Britton's reputed wife, his aunt explained, was unaware of his "outside" relationship. Her nephew, she said, never complained about having a problem with anyone.
The man, relatives said, left his Prince William Street home at approximately 6 pm Monday to take part in a Domino Tournament at a barber shop on Victoria Road.
Thomas recalled that she passed the barber shop shortly before 9 pm and asked Britton whether he was going home. However, Britton received a call on his cellular phone from the woman and proceeded to her house.
"I de walking past the barber shop Monday night and I ask my nephew if he going home," Britton recalled. "Same time he get a phone call from that woman and he lef' and go to her house."
The house of Britton's lover was closed and residents explained that police had taken her into custody yesterday morning.
Residents reported hearing a single gunshot on Monday night. One woman, who lives close to the scene said that after she heard the gunshot she rushed outside and into the yard where Britton lay bleeding.
"I hear this thing around 10 o'clock de night and I rush outside and lil after I go in de yard and see Marlon on de ground bleeding," the resident reported.
According to her, several other people were already present including the man's lover and the young woman who claimed to have seen the gunman.
Other residents, the woman said, reported seeing the shooter running towards Graham Street (behind Prince William Street).
Britton's relatives said they were told that the woman's aunt rushed him to the hospital and they were informed shortly after. However, relatives said they are still not sure what happened on Monday night.
"We can't tell you is what really happen," Thomas said. "But don't think is robbery. We think that this man shoot Marlon and then grab some of his valuables to make it look like a robbery…is jealousy make Marlon get he dead."
Around the Web