-alleged receiver put on bail
Magistrate Priya Beharry yesterday sentenced a man who had stolen a quantity of jewellery valued over $1.4M from a woman's house to three years imprisonment while she put another on $250,000 bail for allegedly receiving the said jewellery, when they appeared before her at the Georgetown Magistrate's Court.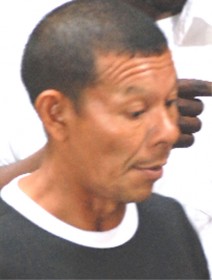 Solomon Daniels called 'Barry' pleaded  guilty with an explanation to a simple larceny charge which stated that between July 26 and August 16 this year at Farm, East Bank Demerara  he stole a gold and diamond ring, a gold and diamond band and two other gold bands, totalling over $1.4M, property of Carmeel Mohamed.
Meanwhile, Sevon Sharples pleaded not guilty to a charge of receiving stolen property which stated that he received from Daniels on August 16, a gold and diamond ring valued $1.2M, property of Carmeel Mohamed, knowing same to have been stolen or unlawfully obtained.
The prosecution stated that Solomon was employed by Mohamed as a handyman for over a month. Between the times mentioned in the charge, the prosecution said,  Mohamed  left the jewellery in a box in her bedroom and  Daniels who had access to the room stole the jewellery and sold the ring to Sharples for $6,400.
The prosecution noted that Daniels sold the rest of the jewellery to several other persons at Stabroek Market.
The prosecution said also that Sharples and Daniels are known to each other and that Sharples sold back the ring for $9,000 to another person. The court heard too that Daniels had pointed out Sharples at the police station and when Sharples was told of the allegation he admitted  it.
"Ow if yuh cud please gimme ah chance to wuk and pay back de money", Daniels pleaded.
When asked how he got the jewellery, Daniels stated, "I find de jewellery in de yard but I din kno was she (Mohamed) own til she tell meh."
Daniels also told the magistrate that, "I ain't a healthy man, cuz ah gah a tumour dat mek mey two hands ain't perfect."
The magistrate then told him that they were perfect enough to pick up the jewellery.
When the magistrate asked him what he had done with the rest of the jewellery he told her that "ah only know bout de ring and only one band and I sell um to a man in Parika."
Meanwhile, Sharples' father who was also present in court stated that his son was not involved in the matter but  it was a girl who  threw the blame on him. He said that Mohamed, who was also present in court, had known this.
The magistrate subsequently sentenced Daniels to three years imprisonment while she granted Sharples bail in the sum of $250, 000 and ordered that he return to court on September 16.
Around the Web