-one says he was on his way home from cinema
By Ayanna Blair
Acting Chief Magistrate Melissa Robertson yesterday ordered that two men, who were accused of being accomplices in the theft of bicycles from a King Street store last Tuesday, be remanded to prison when they appeared before her at the Georgetown Magistrate's Court.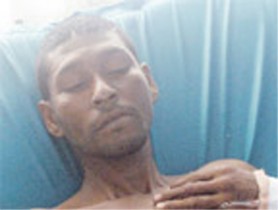 Thirty-one-year-old Norbert Baijnauth, of Lot 45 Phoenix Park, West Bank Demerara and Neville Mahase, 43, of First Street, Alexander Village had both pleaded not guilty to the charges of break and enter and larceny. They both denied that between August 24 and 25 they broke and enter the Crescent Cycle Store on King Street and stole 38 bicycles valued $525, 000, property of Stanley Paul.
However, Baijnauth stated that "I geh five bullets, two in me belly and three in me foot".
While, Mahase stated that "I geh shoot in me left side chest". Another suspect, Mark Heywood was fatally shot.
They stated that they both had undergone surgery to remove the bullets and that their wounds were still bleeding.
Baijnauth also said "I de thought that was a civilian dat kill de man (Heywood) but when I find out it was a plainclothes police from Brickdam police station, he shoot de man while he deh lying down pun de road and kill de man right in front me face… but de police ain't seying nothing bout that".
"Ow ya worship ah begging foh ya foh grant meh bail", added Baijnauth while Mahase stated that he was the only person for his family in the country.
Baijnauth noted that he was on his way home from a cinema but that he couldn't remember the name of the cinema, where it was located and the name of the movie he had watched there. He said that he was shot while running on Robb Street shortly after the break-in.
The prosecution objected to the duo's bail applications on the grounds that they may continue to commit similar offences if released. The prosecutor said that 38 cycles had been stolen and that only five were recovered.
The prosecution went on to say that both Mahase and Baijnauth are well known to the police for offences of this nature and they had been arrested and charged several times before.
The prosecution also stated that one of the men had shot at the police, who later returned fire, while they were fleeing the scene.
Baijnauth then stated "Ma worship ah geh charge one time for a bike story when I was sixteen, and never again after dah". Mahase then told the court "I geh charge for things like this ah couple ah time, maybe four, five times alone".The magistrate subsequently ordered that the duo be remanded to prison and transferred their matter to Court Five for September 5.
Reports were that Baijnauth and Mahase were among a group who had broken into the King Street establishment around 1:30 am and were carting off cycles. When the police arrived on the scene, the men made a mad dash for freedom and it was during this bid that shots were discharged.
A police release said that around 1 am police in Georgetown acted on information pertaining to a breakage at the cycle store located at King Street, Lacytown and owned by Stanley Paul.
While proceeding to the scene one man was encountered, police said and he dropped a cycle he had in his possession and ran. The ranks proceeded to the store where four others were exiting the building on cycles and were called upon to halt but continued riding away.  A chase ensued and the suspects were cornered on Robb Street.
Reports are that one of the men who allegedly had a gun in his possession had shot several times at the police who returned fire and shot Mahase, Baijnauth and Heywood called Mark King, 35, of Lot 69 Robb Street, Bourda.
Heywood was shot in his face and later succumbed to his wounds while undergoing emergency surgery at Georgetown Public Hospital.
According to the release five bicycles and four cutlasses were found at the scene.
Around the Web