After an absence of two years, popular entertainer and story teller, Paul Keens Douglas returns for two performances at the National Cultural Centre on October 10 and 11.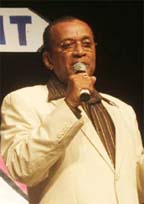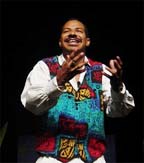 According to a press release from GEMS Theatre Productions, which has promoting the popular 'Tante Merle' creator and his Talk Tent team on an annual basis in 2004,2005 and 2006, among the popular faces returning are Miguel Brown and Felix Edinboro 'Pierrot', a very colourful character. New faces will be the 'Roy and Gloria' team of Hal Greaves and Dawn Henry and they will be supported by local performer Henry Rodney, who will be the singing emcee.
Known as Mr Tim Tim  in the storytelling world, Paul Keens-Douglas is one of the most eloquent and best-known oral performers in the English-speaking Caribbean. Born in Trinidad, he grew up in Grenada, and has been writing and performing since I974. He has nine volumes of work, 14 albums, three videos, 15 CDs and two DVDs to his credit.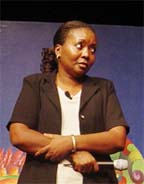 For the past 35 years he has been a role model and leading exponent of the oral traditions in a variety of fora, of which his Carnival TalkTent, which he founded in 1983, has become a hallmark. Today Paul is becoming even better known in his role as Feature Speaker and Motivational Presenter, and his Talk Tent has become an example that many have      followed.
Felix Edinboro has a long history of involvement in theatre and the performing arts especially at the community level. But he is best known for his signature portrayal of the Carnival Character the Pierrot Grenade, which is a highlight of the Talk Tent every year. Dressed in flowing robes of colorful strips of cloth, with painted face and carrying a whip, the Pierrot is the master speller of words big and small, each spelling telling a story. It is through artistes like Felix Edinborough and productions like the TalkTent that the dying art of many of our oral traditions are kept alive.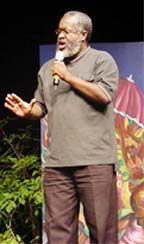 Miguel Brown is a History teacher at St Mary's College, who began writing and performing his own dialect poetry and stories while still an undergraduate at UWI  St Augustine. He joined the Talk Tent in 1988 and has been an integral part ever since, with his presentation of dramatic monologues and dialect poems. Audiences have come to look forward to his special rhythm and dramatic movements which give his work a life all its own. He has published two collections of his writings Trini Talk and Talk That Talk, an audio cassette Jumbies and two CDs – De Mark Buss and Talk Boy Talk
Known as Roy and Gloria, Hal Greaves and Dawn Henry have been making a name for themselves with their popular TV educational presentations where they help to dramatize the social problems facing Caribbean societies with humorous but enlightening dialogue.
Talk Tent has been staged in Trinidad for the past 28 years and is described as good clean family entertainment.
The release said the show is a fundraiser for the Guyana Rugby Football Union to assist with funds for the male and female team heading to Mexico in mid-November to defend and retain their championship title.
Tickets are $2,000, $1500 and $1000 and are available at National Cultural Centre, Nigel's Supermarket and Margarita Gift Shop. Both performances will start at 20.00 hrs.
Around the Web