The screams of a young woman shattered the busy Water Street shopping area yesterday as she alerted the driver of a truck that its wheels had just run over a man.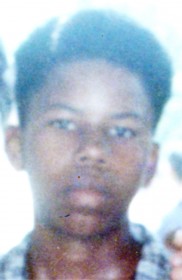 And as the truck halted and tyres screeched scores of persons rushed to the scene  where a man was killed after throwing himself under the moving ten-wheel truck just outside  the City Constabulary Training Complex opposite N&S Mattai Supermarket.
Twenty-nine year old Earland Hinds of Queen Street, Cummingsburg, commonly known as 'Tiger Bay' had only minutes earlier been dealt a blow with a heavy brick by a woman whose son complained to her that he had been struck by the man.
Hinds's sister Earlette Hinds said she was lying in her bed just before 11 o'clock yesterday morning when she head someone shout, " Buss he head man, buss he head." She said she hesitated to go and see what was happening since she was ill, and instead sent her reputed husband to investigate. She then rushed out and saw her brother, who suffered from mental illness, standing with blood dripping from his head.
"When I ask he wah happen he tell me, 'you all don't worry with me man, I gon dead just now," she related.
As she probed further for details, she was told by children who stood around as well as a few adults that a child had been seen pelting the man with a brick and he then threw something at the child. However the youngster complained to his mother and within minutes the irate woman in a rage lifted up a clay brick covered with concrete and dealt the man a blow to his head while he lay on the stairway of St Thomas Presbyterian Church, located at the junction of Hope and Queen Streets.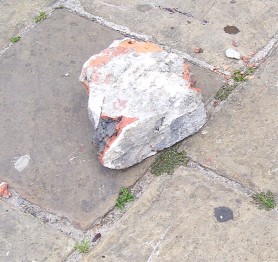 The woman said on hearing this she went around the corner to see the woman whose name had been called. She said the woman's reputed husband spoke to her and told her that her brother had hit the child and so his mother, "had  to do what she had to do."
Hinds said she was going to look at the object that was used to hit her brother and by the time she returned she saw everyone assembled across the street and her brother lying motionless with a truck parked nearby.
"They say he jumped under the truck and the wheel go over he head," she said as she fought to control her tears.
While her brother was "not too right upstairs," she continued, he was never a person who troubled people in the area. However, he was the target of some youths in the area who from time to time would torment him.
When this newspaper arrived on the scene shoppers had stopped to get a glimpse of what had occurred. Many were heard recounting that the woman who injured the man prior to his suicidal action did not reprimand her children when they did wrong.
A teenager who said she witnessed the accident told Stabroek News that the truck driver was none the wiser about a man throwing himself under the wheels, and it was only the screams of a girl that made him aware as well as the sudden hump which the vehicle went over.
Earlette Hinds said her brother had attempted suicide in the past but relatives had tried their best to ensure he stayed away from this temptation. She said her brother helped her to sell each day and he was paid. He also assisted the stores in the area especially when they brought in containers.
The woman who hit the man could not be found when the police were searching for her.
Around the Web