– police scouts invested
Commissioner of Police Henry Greene has urged residents of Linden and Region Ten to work together to improve their livelihood by reducing criminal activities, which he said could be realized with the newly installed Linden Station Management Committee (LSMC).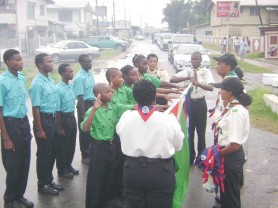 The committee was officially inaugurated on Saturday along with the Linden Police Scouts movement.
Stressing the importance of fighting crime, Greene said the task starts by empowering youths to become good public citizens. "The young fowl becomes an old fowl; a young bull becomes an old bull; a young thief becomes an old thief and [it] is the same way a good young corporate citizen becomes a good old corporate citizen. So it is important that you train them from young and if you don't you stand to lose them," he said.
Greene said he had challenged Senior Superintendent Crawford to get the LSMC functional in Linden and was very pleased when he was later informed that the committee was formed and had spearheaded the formation of the scout movement with in excess of 100 young people, especially since it proved a difficult task initially. Greene said that the LSMC is a vital arm of the disciplinary services, with the objective of developing an effective monitoring system by both police and civilians. "You have a role to play and any police [officer] who makes you believe that you don't have a role to play is misguided. We are here to serve you, to work with you. The force is created to serve the public and not the public created to serve the force and therefore station management comes in to fix that and effectively monitor what we are doing at police stations," Greene emphasized.
He pledged his support to the committee and the scouts and made a monetary donation of $200,000 to the scouts group. He also made a commitment to support and strengthen the Linden Corps of Drums, which he described as a very outstanding band that has never lost its standards. He said efforts would be put in place to have the scouts benefit from the band in order that it can grow and remain in existence.
Residents were told that the committee had no political bias and would work with anyone to achieve its objective. Residents were asked to support the group, to eradicate crime, joblessness and other social ills.
Regional Chairman Mortimer Mingo pledged to fully support the LSMC. "I sincerely congratulate and laud the administration of the Guyana Police Force for taking this necessary and highly initiative step by introducing a movement, which has one of our most precious resources here in Region Ten and Linden that being our young people," said Mingo.
Around the Web